Walking has never been more rewarding than with CashWalk! With this app, you can earn cash or even gift cards simply by walking and tracking your steps.
And the best part? We have a special CashWalk referral code just for you! By using this code "KYSYNC" you can win a welcome bonus of 500 Stepcoin points that you can later redeem into gift cards. 
Keep reading to learn about this fun app and how you can enjoy free money by using our CashWalk hack.
What is CashWalk App?
CashWalk is an interesting app that counts your steps and offers gift cards for walking. It's like a pedometer on your phone. You can earn coins by using CashWalk, and these coins can be exchanged for real cash or cool prizes.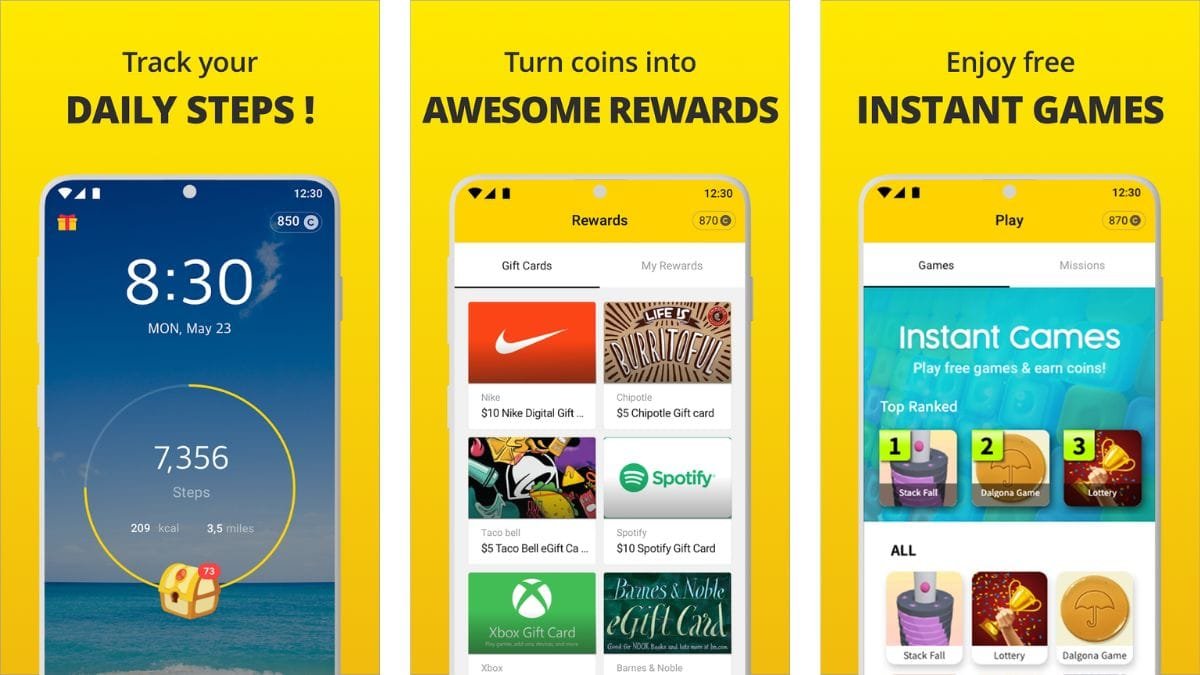 And before you start worrying, let me tell you, it's completely legit because it actually does what it promises: it helps you make money while you walk. The creators made it to motivate people to exercise and give them something in return.
CashWalk Referral Code 2023 [August]
Let's talk about the cool gifts you can get from CashWalk. They have some promotions going on like sign up bonuses, referral bonuses, cash back, and gift cards. It's a secret CashWalk hack!
But what exactly do you need to get started? Well, you just need a CashWalk referral code to sign up. Here's our latest code that you can use to avail yourself of the CashWalk promotions.
CashWalk Free Referral Code 2023: KYSYNC
It may take some time to save enough Stepcoins to convert them into gift cards. You need a minimum of $5 worth of Stepcoins to make a conversion, and the payout limit is set at $25.
But when you have enough, you can use the points you earn from these bonuses to get gift cards from top stores like Amazon, Walmart, eBay, and more. Pretty neat, right? Let's explore these CashWalk rewards in detail.
Before jumping into that, take a moment and see how everyone is making money with Atlas Earth codes.
CashWalk Promotion: 500 Stepcoin Welcome Bonus
When you sign up for CashWalk, they'll give you a welcome bonus of 500 Stepcoin points just for joining. That's a nice head start! Let's see what steps you need to follow.
How to Earn CashWalk Sign Up Bonus?
Download the CashWalk app on your phone.
Open the app and sign up using your email and password.
During the sign-up process, you'll see a field for a promo code. Enter the promo code "KYSYNC" and click on "Sign up."
Now, it's time to start walking! Take at least 100 steps using the app.
Once you've completed the 100 steps, you'll receive your 500 Stepcoin CashWalk sign up bonus.
CashWalk Referral Promotion: 500 Stepcoin Referral Bonus
But wait, it gets even better. If you invite your friends to join CashWalk and they start using the app, you'll earn a referral bonus of 100 Stepcoins. It's a win-win situation because you and your friends get to stay fit and earn rewards too!
How to Earn CashWalk Referral Bonus?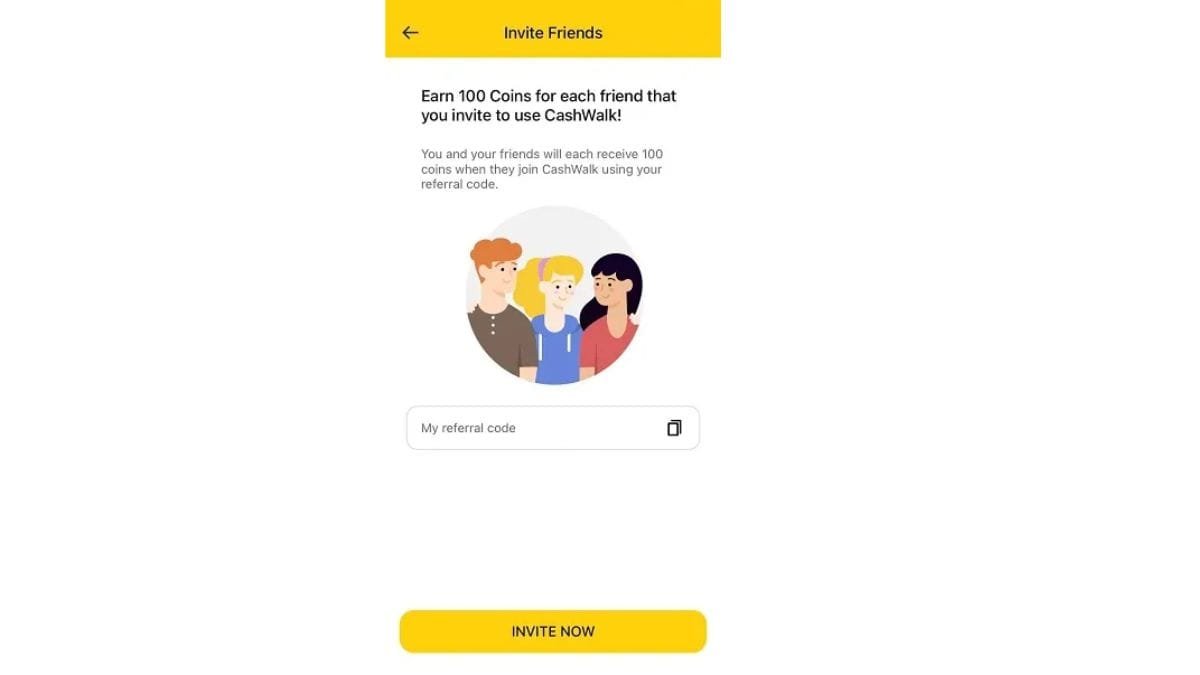 Open the CashWalk app and log in to your account.
Look for the "Invite friends" option within the app.
Copy your unique CashWalk referral code.
Share your referral code with your family and friends. You can send it to them through messaging apps, social media, or any other convenient method.
When someone you referred signs up for CashWalk using your referral code, make sure they walk at least 100 steps using the app.
Once they have completed the 100 steps, both you and the person you referred will receive a CashWalk 500 bonus.
If you have a large circle of friends and family, the best option is to take advantage of the trending Temu Affiliate Program where you can earn up to $150,000.
CashWalk Hack: Earn More Coins On CashWalk
Want to learn a cool CashWalk hack to earn more coins? Well, I've got a little trick for you that can help you make unlimited coins in a day. Let's get into it!
First, CashWalk usually asks for access to your GPS so they can track your distance. But here's the thing: there's a CashWalk bug that can work in your favor. Here's what you need to do:
Long-press on the CashWalk app and select "App Info"
In the App Info screen, find the "Permissions" section.
Deny all location permissions for CashWalk.
Once you've done that, you're all set! You can now earn coins without even leaving your house!
You see, most walking apps give you a bunch of coins when they can't fetch your location access. So by denying the location permissions, you're tricking the app into thinking you're walking even when you're not moving from home.
Keep in mind that this hack may not work forever since app developers often fix bugs. So make the most of it while you can!
Remember, it's always important to have fun and stay active in a genuine way, but if you're looking to boost your coin collection on CashWalk, this little hack might come in handy. Watch this video to see more ways to earn coins on CashWalk app:
How Much Does CashWalk Pay?
Now, let's talk about how much CashWalk pays you. Basically, you can earn a maximum of 100 coins per day from the app. But here's the catch: you need to walk a whopping 10,000 steps to get those 100 coins. It's a bit of a challenge, but it's doable if you're up for it.
Let's say you want to get a $5 Amazon gift card. You'll need at least 2,000 coins to redeem it. So, if you're earning 100 coins per day, it would take you about 20 days of walking 10,000+ steps each day to reach that $5 goal.
But here's the cool part: besides just walking, you can earn some bonus points throughout the week. You can set CashWalk as your lock screen and "check-in" to get some extra coins. It could be around 20 coins per day, give or take a little.
Now, is it worth it? Well, that's really up to you. If you're motivated to earn some extra cash and don't mind putting in the effort to walk and check in every day, then it could be worth a shot. According to our opinion, it is one of the best apps that pay you to walk.
Is CashWalk Legit?
Yes, CashWalk is a legit app that actually pays you for walking. After reading and analyzing CashWalk reviews from multiple users, we have concluded that it's a great way to earn some extra cash or gift cards just by taking those steps. 
Is CashWalk Safe?
Now, let's talk safety. CashWalk is a safe app to use, but it's important to be aware of a few things. When you use CashWalk, you'll be sharing your personal data and location with the app. This helps them track your steps and reward you accordingly.
To make sure you feel comfortable with this, take a moment to review CashWalk's privacy policy and terms of use. This will give you a clear understanding of how your data will be handled and protected.
Final Note
To sum it all up, CashWalk is a reliable and secure app that turns walking into a rewarding experience. With the help of the CashWalk referral code "KYSYNC," you can begin your fitness journey with a 500 Stepcoin welcome bonus. Plus, by inviting your friends to join, you can all earn a CashWalk referral bonus worth 500 Stepcoin.
So, grab your sneakers, track your steps, and enjoy the benefits of CashWalk rewards.