Are you torn between Temu vs Shein for your online shopping needs? Don't fret! We've got you covered. 
Both these shopping giants are battling to provide you with the best deals and offers but like any other platform, both have their own pros and cons. If you want to see which one is more suitable for you, you're in the right place!
In this article, we'll find the truth about Shein vs Temu. From their similarities to their differences, we'll leave no stone unturned. So, let's get started.
Temu vs Shein: Overview 2023
Starting off with the most basic question: Are Temu and Shein the same company?
No, they are two distinct online retailers. They both provide competitive products and are popularly known for their affordability and discounts.
Temu is more than just a fashion retailer. It offers a wide range of products, including lifestyle items, industrial and domestic appliances, as well as beauty and health products. It operates solely as an online marketplace.
On the other hand, Shein is an online retailer that specializes in fast fashion and beauty products. So, are Temu and Shein the same? No, unlike Temu, Shein has some pop-up stores available for those who prefer to try on outfits before making a purchase.
The choice between Temu and Shein depends on individual preferences, such as product variety, shipping options, and the desire for in-store experiences. Let's review both platforms on the basis of 7 parameters.
Temu vs Shein: Which Is Cheaper?
Which is cheaper, Temu vs Shein? Well, when it comes to affordability, Temu generally offers lower prices compared to Shein. 
Temu Pricing
Temu has products with incredibly low price tags. But why is Temu so cheap? 
Because it directly connects with top-tier suppliers and manufacturers worldwide, allowing them to offer wholesale prices. By cutting out unnecessary middlemen and avoiding excessive markups, Temu manages to provide prices that truly reflect the production costs. 
You can even get stuff for almost free with Temu's current offers.
Shein Pricing
On the other hand, Shein also caters to budget-conscious shoppers by offering affordable fashion options. So, when deciding between Temu and Shein, it's wise to consider factors beyond just the price, such as product quality.
Temu vs Shein: Which Has Better Quality?
Moving on, let's see how Shein and Temu differentiate when it comes to the quality of their products.
Shein Product Quality
Shein offers clothing that is decent considering its affordable prices. But when it comes to quality, Shein's products have some mixed reviews. Some customers have compared their quality to that of other fast fashion outlets. 
Temu Product Quality
On the other hand, Temu surpasses Shein in terms of clothing quality, despite offering lower prices. Customers have praised Temu for its durability and customer service.
So, if you're looking for better quality garments that can withstand longer wear, Temu might be the way to go.
Temu vs Shein: Which Has Better Variety?
When it comes to variety, Shein definitely takes the lead in offering a wide range of clothing and accessories. 
Shein Product Variety
Shein constantly updates their inventory with the latest fashion trends. Shein is known for its diverse and ever-changing fashion options that cater to different styles and preferences.
Temu Product Variety
On the other hand, while Temu offers fashion products, its overall advantage lies in the broader range of categories it covers. In addition to clothing and accessories, Temu also offers home appliances, electronics, musical instruments, and even pet supplies. 
So, if you're specifically looking for a vast selection of trendy fashion items, Shein is a great choice. However, if you're interested in exploring a broader range of products beyond fashion, Temu offers a more diverse shopping experience.
You can claim free stuff from Temu by following all the hacks outlines in our guide.
Temu vs Shein: Which Has Better Shipping?
In terms of shipping, both Temu and Shein have their own offerings. 
Temu Shipping
Temu provides free standard shipping on orders over $29, with delivery times typically ranging from 7 to 15 business days. They also charge a standard delivery fee of $3.99.
Shein Shipping
Shein's standard shipping also takes about 7 to 15 business days, but the delivery time may vary depending on the country of delivery.
Ultimately, the shipping options and fees provided by Temu and Shein are quite similar.
Temu vs Shein: Which Has Better Return Policy?
Now, Temu and Shein have different return policies.
Temu Return Policy
Temu offers a more generous return policy, allowing you to return items within 90 days of purchase at no cost. They guarantee a full refund as long as the item is unworn, undamaged, unwashed, and still has the original tags. 
Shein Return Policy
On the other hand, Shein has a slightly shorter window for returns and exchanges. They allow you to return or exchange an item within 30 days from the date of delivery. Here's what a Shein customer has to say about their return policy: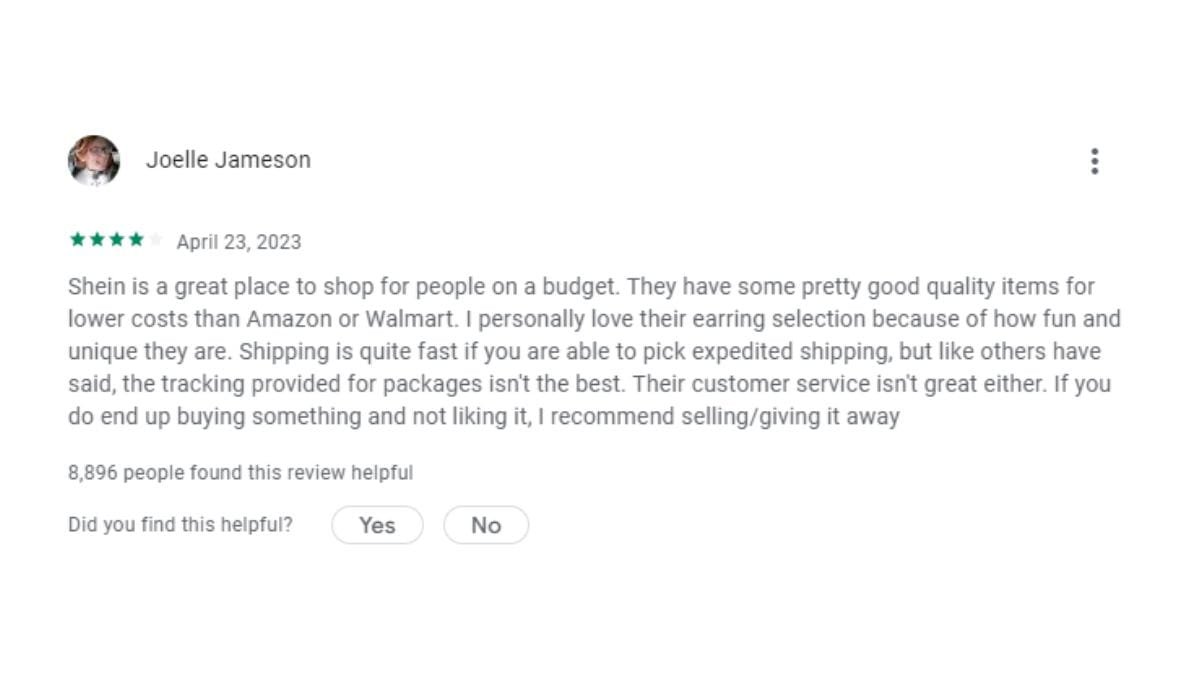 Temu vs Shein: Which Has Better Promotions?
To make the most of the promotions, it's always a good idea to stay updated on the latest offers from both Temu and Shein. 
Temu Promotions
Temu stands out by providing exciting and frequent promotions, such as $100 coupon codes for existing customers and referral bonuses. These promotions and discounts allow customers to enjoy free money on Temu.
Shein Promotions
On the other hand, Shein is also popularly well-known for its promotions and discounts. They provide various deals that attract shoppers looking for great bargains and savings.
Bookmark our page to take advantage of the best deals and offers out there.
Temu vs Shein: Are They Legit?
Before deciding on the ultimate option, it's important to know about the legitimacy of these platforms.
Is Temu Legit?
Temu is a legit and reliable online shopping platform. It ensures the safety of your payment data by using PCI-certified payment links. This certification guarantees that your payment information is processed securely and carefully.
Is Shein Legit?
On the other hand, Shein has faced criticism regarding labor conditions and the durability of their products. But despite these controversies, Shein has a huge loyal customer base all around the globe. 
Is Temu Or Shein Better?
Well, it depends on your specific needs, preferences, and location. Both companies have their own strengths and characteristics.
Temu offers a diverse range of products beyond fashion, including lifestyle items, appliances, and beauty products. If you're looking for a one-stop shop for a variety of items, Temu might be a good choice. However, it has a limited shipping range, serving only customers in the US and Canada.
Shein, on the other hand, specializes in fast fashion and beauty products. It has a global reach, shipping worldwide, and also provides the option of in-store shopping with its pop-up stores. But you might have to trade off on product variety and quality. 
Here's a video with an honest Temu vs Shein review:
Final Verdict
According to our experience of 2023, let's conclude that the ultimate choice depends on your own preference. If you are looking for affordable products other than fashion, Temu should be your way to go! You can even enjoy its deals and discounts. 
On the other hand, if you're specifically interested in fashion products, Shein is worth a try. They specialize in trendy fashion items and cater to a diverse range of styles and preferences.
Both platforms have their unique offerings, so take the time to explore their product range and see which one aligns better with your shopping requirements.
FAQs
Is Temu also a fast fashion company?
No, Temu is not a fast-fashion company. It is an online marketplace hosting independent sellers across various product categories.