If you are a fashion enthusiast looking to turn your passion into a profitable venture, the Shein affiliate program might be just the opportunity you've been waiting for! 
As one of the top-rated fashion sites globally, Shein has not only captivated the hearts of online shoppers with its trendy and affordable clothing but also enticed individuals seeking to make passive income. 
In this article, we'll tell you all about the benefits of being a Shein affiliate and how to earn by promoting their hot-selling clothing and accessories
Does Shein Have An Affiliate Program?
Yes, it does! You can sign up to be a Shein affiliate, which is like a partner, and then you can start promoting Shein products to other people. 
Here are some important things to know about the Shein affiliate program:
Commission Rate: You can earn up to 20% of the money from each sale you help make. So the more people buy through your link, the more money you can make.
Cookie Duration: The program uses something called a "cookie" to track your referrals. This cookie lasts for 30 days. So even if the person doesn't buy right away but comes back later to make a purchase, you'll still get credit for it.
Payment Payout Threshold: To get paid, you need to reach a certain amount of money earned. The exact amount depends on which affiliate program you join.
Payment Options: Depends on the specific affiliate program you're a part of.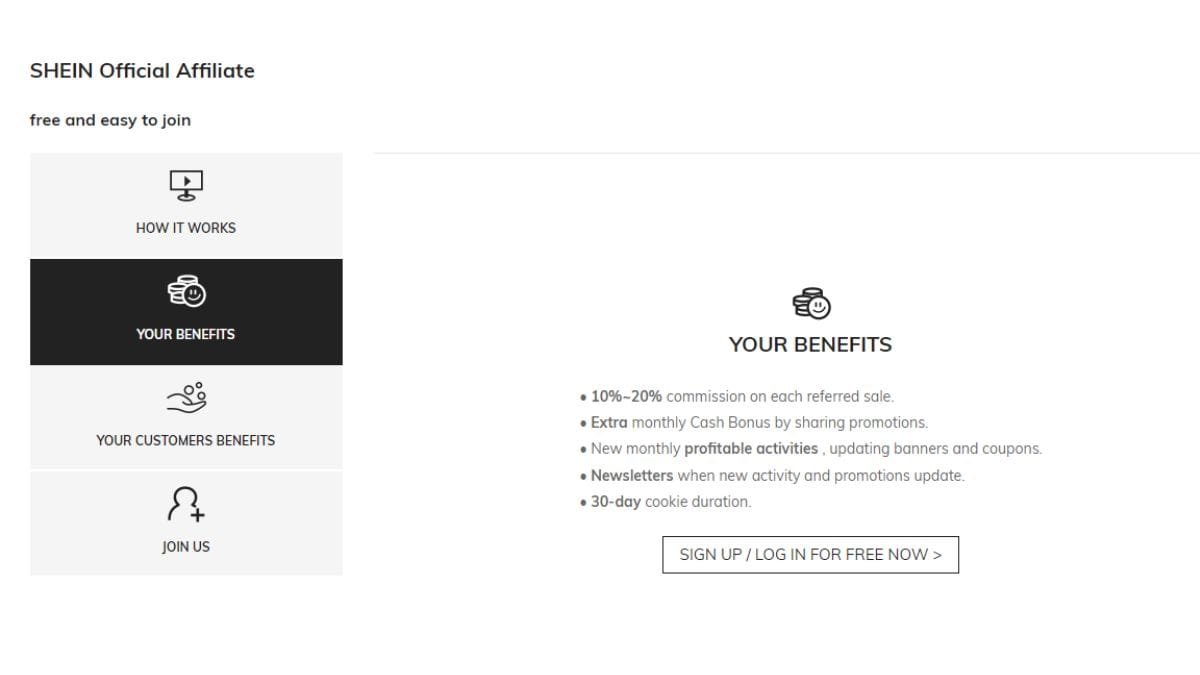 Compare it with Temu Affiliate Program and see which one gives you more benefits!
What is Shein Affiliate Program?
Shein Affiliate Program is a way for people with websites or online followers to make money by promoting Shein, a popular online store. They can be bloggers, digital marketers, influencers, or others with an online presence.
How Does Shein Affiliate Program Work?
If you're new to the affiliate business, don't worry, I'll break it down for you. Here's how the Shein Affiliate Program works:
Sign up – So, first things first, people can join the Shein Affiliate Program for free.
Get your special link – Once you're in, they'll give you a special link that's just for you. It's like your secret passcode.
Share it like a pro – Now, your job is to share that special link wherever you want – on your website, your social media, or wherever you hang out online. 
Clicks bring credit – When someone clicks on your special link and goes to the Shein website, they'll know it's all thanks to you.
Earn some dough – Here's the best part: if that person ends up buying something from Shein, you get a reward – a little bonus for your hard work.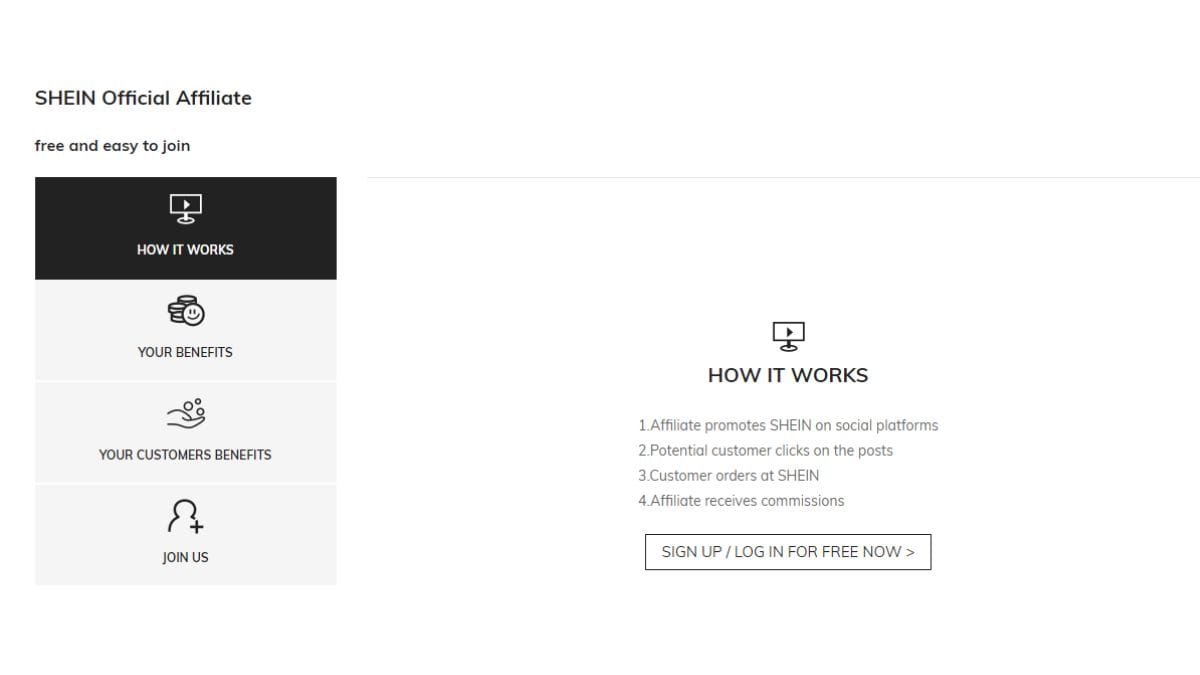 And that's it! By talking about Shein and sharing your link, you can make some extra cash when people buy stuff from Shein through your special link.
But don't limit yourself to Shein! There are many more ways to earn by posting ads if you have a good number of followers.
Shein Affiliate Program Pros and Cons
Shein affiliate program has both positive and negative aspects. Let's take a look at the advantages and disadvantages of being an affiliate partner with Shein.
| Pros | Cons |
| --- | --- |
| Good Marketing Creatives | Capped at 20% Commissions |
| Huge Product Selection | Low Commissions on Cheap Pricing |
| Easy-To-Use Affiliate Dashboard | Risk of Being Banned from the Program |
| Great Reputation | |
| Low Pricing Model | |
How to Join Shein Affiliate Program?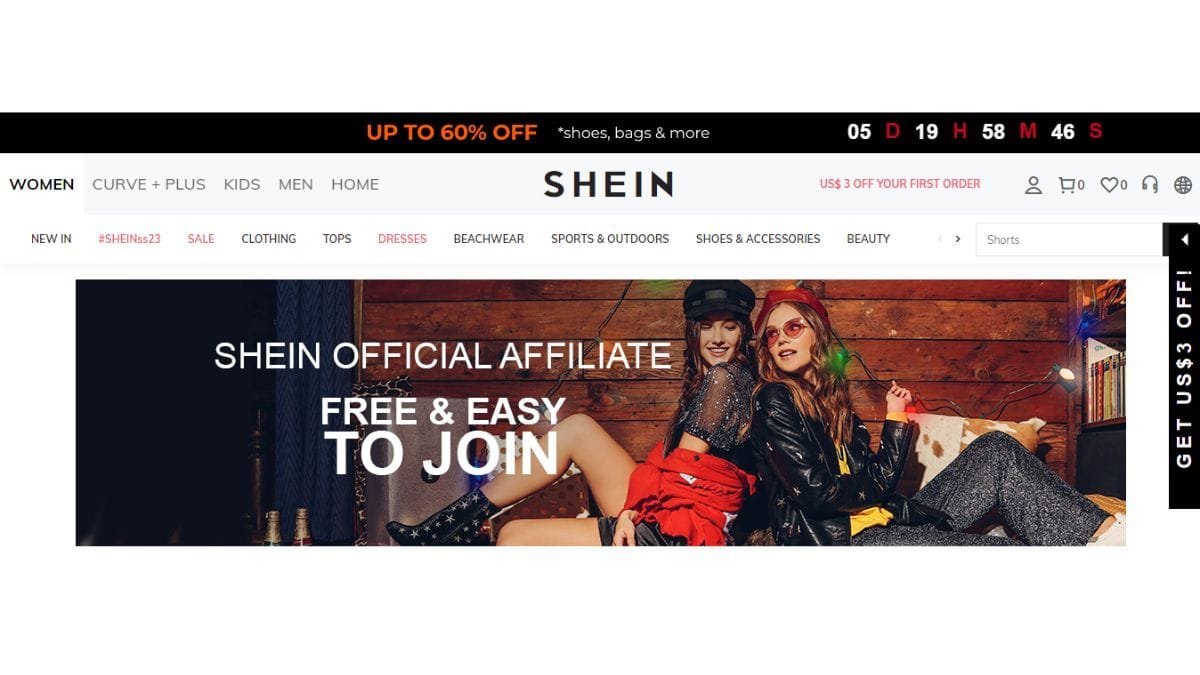 To become a part of the Shein Affiliate Program and start earning commissions by promoting Shein products, follow these simple steps:
Step 1: Go to the Shein website and find the page dedicated to their affiliate program.
Step 2: Look for a rectangular button on that page that says "Sign Up/Log In For Free Now" and click on it.
Step 3: You'll be taken to an application form. Fill in the form with your information.
Step 4: Once you've completed the form, submit it for review by the Shein team.
Step 5: They will check your application, and if it gets approved, congratulations! You can now begin promoting Shein products and earning commissions for every sale you generate.
You can also apply for the Shein Affiliate Program through various popular affiliate networks, such as ShareASale, CJ Affiliate, Pepperjam, Admitad, and AWin. Just visit any of these partner sites and submit your application there.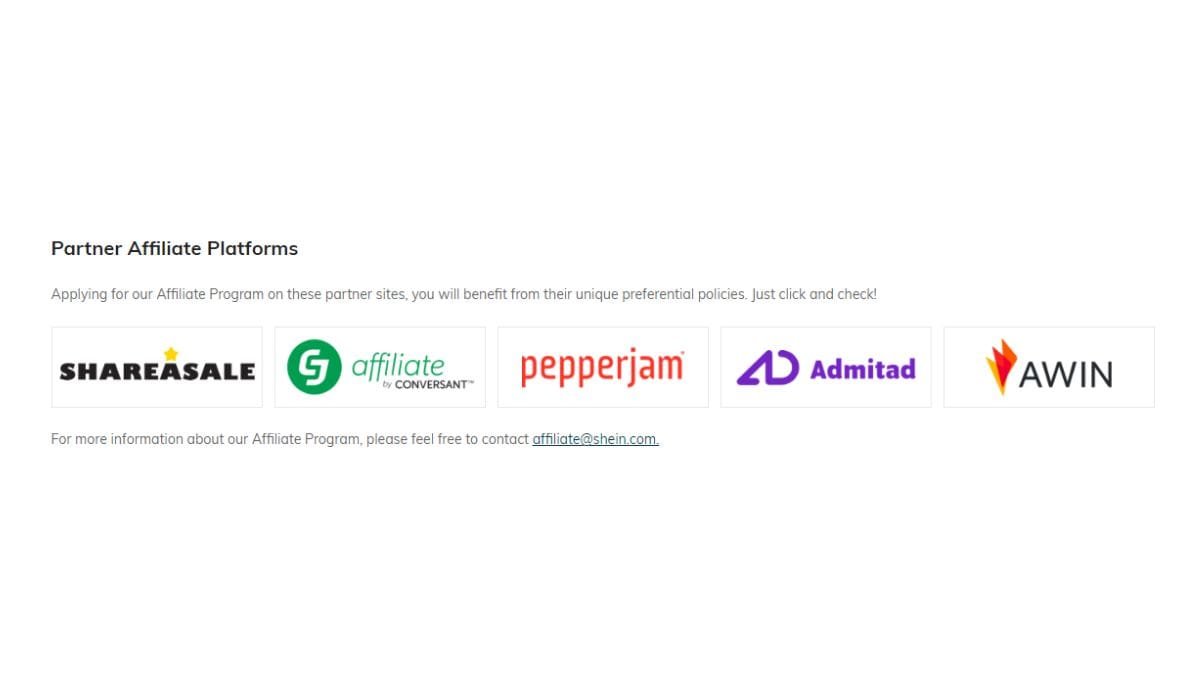 Shein Affiliate Program Terms & Conditions
You need to keep a few things in mind before getting started with Shein Affiliate Program:
Use coupons for sales tracking. 
No negative or explicit content. 
No bidding on Shein terms in ads. 
No pop-up ads with Shein's name. 
Commissions from brand bidding will be rejected.
Shein Affiliate Program Commission 
Now, how much do you get paid on Shein affiliate program? The commission rate offered by Shein is up to 20%. So, if the person you referred spends $100, you will earn up to $20 as a commission. 
To receive the payment, you need to have a PayPal account set up. PayPal is a popular online payment service that makes it easy to get paid securely. The good thing is that there is no minimum amount you need to generate to get paid, and you will receive your earnings every month.
Don't have PayPal account? Join now and claim your PayPal sign up bonus
If you want to learn more about the Shein Affiliate Program or how they pay affiliates, you can visit their website or get in touch with the Shein Affiliates team.
What Products Can You Promote With Shein Affiliate Program?
With the Shein affiliate marketing program, you can promote a wide range of products from their fashion store. Some of the main categories you can promote as a Shein affiliate are:
Fashion
Shoes
T-Shirts
Jewelry
Accessories
Beauty and Make-Up
Men's Clothing
Children's Clothing
Plus-size Apparel
Lingerie
As a Shein affiliate, you can promote these products and earn a commission for each sale that comes through your referrals. Here's what your customers get:
Final Verdict
To sum it up, Shein Affiliate Program offers a way to make money by promoting a wide range of trendy fashion products. You can earn up to 20% in commissions by promoting trendy clothes, shoes, jewelry, and more. It's easy and free to sign up, and with a 30-day cookie duration, you won't miss a sale. 
So, if you have a passion for fashion and enjoy sharing products with others, Shein Affiliate Program might be worth considering.