Strike App is probably one of the most hyped crypto apps. We did an in-depth Strike review to find out if it's worth all this hype. Strike is a payment app like Venmo and Cash App that lets you send, spend, and receive Bitcoins and flat currency. It uses Bitcoin Lightning Network making it essentially a free platform.
Now, let's take a closer look at this Strike review and see what we observed in this crypto app.
Strike Review At a Glance
Strike allows you to do all the payment tasks, including sending/receiving funds, making micro-payments, and paying for any goods. Let's have a quick look at all the things we get in this app.
Essentially requires no fees.
Enables instant money transactions.
Allows you to earn with Strike promotion.
Allows you to get Bitcoins with funds in your linked bank account.
Allows you to send, receive, and spend Bitcoin with direct deposit.
Allows you to Make micropayments easily.
Supports Lightning Network enabling faster yet cheaper transactions.
What is Strike App?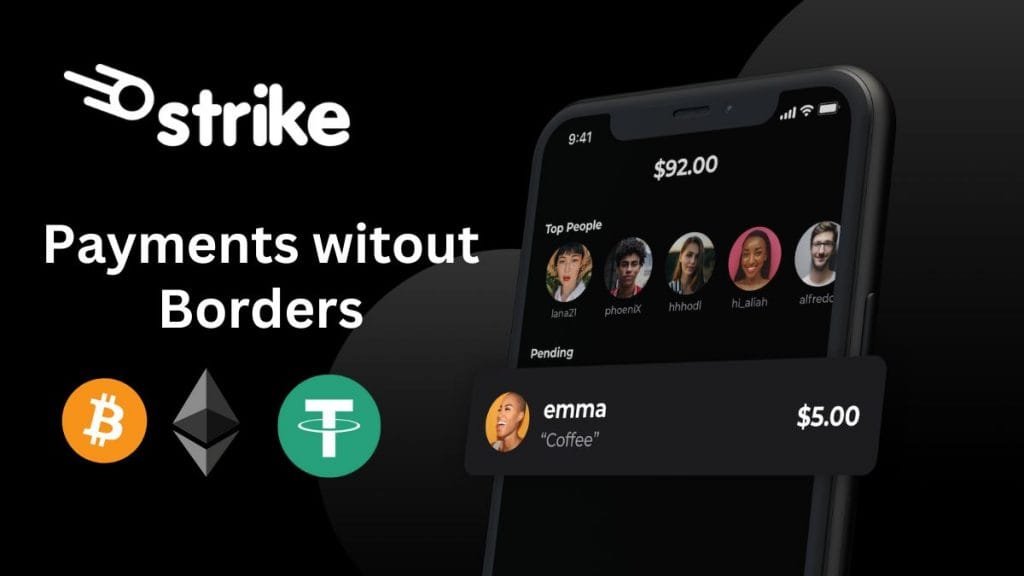 Strike App is the Bitcoin version of the other common payment apps like Venmo and Cash app. It provides all the opportunities that these apps have, only with the addition of Bitcoin. Lightning Network allows instant money transactions all around the globe. The company has raised an investment of about $80 million.
It is an international crypto payment platform. Like Venmo, Coinchange, and CoinZoom, it enables you to buy, sell and spend in cryptocurrency. The strike app makes the payment process easier with no-fee transactions. The motive is to remove the middle layer making money transfer more efficient.
Strike: Pros & Cons
Here's a list of the pros and cons that we observed in our Strike review.
| Pros | Cons |
| --- | --- |
| No-fee transactions | Not beginner-friendly |
| Funds transfer from the US to all around the globe. | Only works with Bitcoin and no other cryptocurrency |
| You earn cash back | Funds in the app are held by Strike |
| Limited KYC verification | |
| Plans to partner with Visa | |
Strike App Pros & Cons
5 Best Features of Strike 
Curious to get to know Strike? This Strike review brings its 5 best features here:
Its user-friendly interface allows you to send money instantly all around the world.
It allows you to make payments simply by scanning QR codes related to Bitcoin addresses. 
Strike is on its way to adding more bank-related functions like receiving direct deposits into the app. 
It has multiple uses. It enables amazing features such as filling Bitcoin-denominated invoices from a bank account, international remittances, and buying Bitcoin.
There is only a minimum KYC verification requirement.
It welcomes users from more than 200 countries. All thanks to Strike's partnership with  Bittrex.
It is an alternative way to increase your Bitcoin holdings.
It allows users to earn up to 15% cash back with CryptoCloaks, BitcoinShirt, and others.
What is the Strike app used for?
Here's what you can use the Strike app for.
1. Buying Bitcoin
becomes much easier and seamless with Strike. It helps you track the price of Bitcoin in real-time. All you need is to link a payment method.
2. Getting paid in Bitcoin
Strike can convert any percent of your money into Bitcoin for free using your account. You will specify this percentage.
3. Make cheap and fast payments
Similarly, you can send funds anywhere you want instantly. You can say goodbye to all the expensive payment services.
4. Recieve Bitcoin as USD and vice versa
Link a bank account, deposit funds, and you'll be able to use Bitcoins for transactions. You can interact with Bitcoin without even dealing with volatility. You can even spend your USD as Bitcoins if you want.
Strike Fee
The key feature that we observed in the Strike review was its fee. It's one of the most affordable crypto payment platforms. Let's compare it with other competitors to get a better view of Strike fees. This is what multiple platforms offer you for a $100 BTC:
Strike – $100.00
Venmo – $97.70
Coinbase – $97.0
CashApp – $97.74
Strike takes an edge here. Strike App uses Lightning Network enabling affordable micropayments. It is probably one of the easiest and simplest ways to buy bitcoin.
Strike Promotion: Earn $10 with Strike!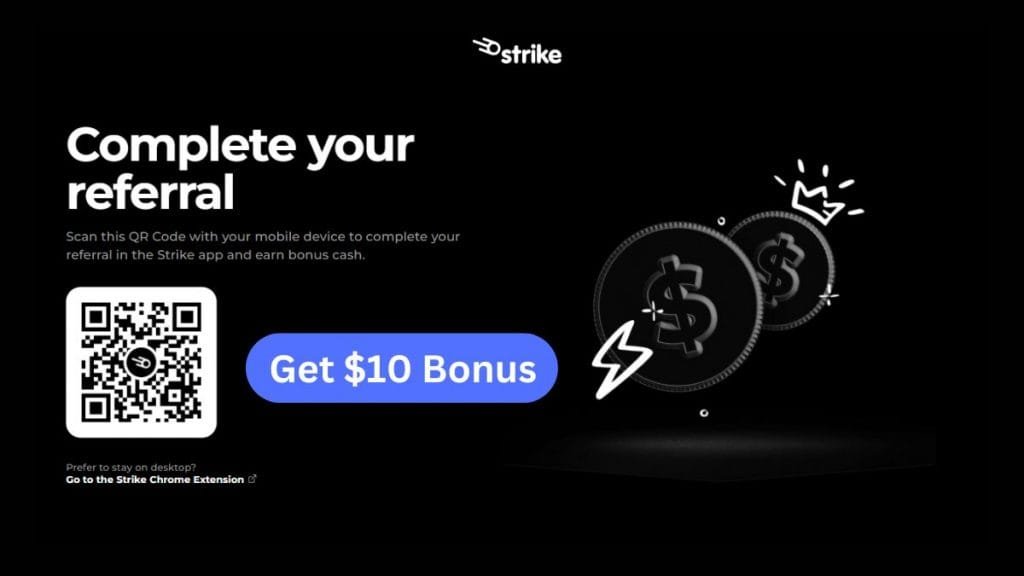 Another great benefit of signing up with Strike is its promotions and rewards. Strike welcomes new members with a $10 sign-up bonus. Existing users can make side money by availing $10 referral bonus offer. 
So, if you are looking to make extra cash on the side, head on to Strike promotions to learn the complete step-by-step process.
Is the Strike App Safe?
Yes, the Strike app is safe and trustworthy. It uses all the security standards as all other trusted crypto platforms. Bitcoin Lightning Network makes it free, which is a plus when it comes to legitimacy. But, like any other app, the risk is unavoidable. So to be safe from any such risk, make sure to enable your two-factor authentication and KYC verification.
Final Words
This detailed Strike review covers everything that you need to know before deciding its worth. All in all, it is a decent platform that you can use as a payment app or while dealing with Bitcoin. The free-of-cost-money transaction feature makes it unique and worth a shot.
FAQs about Strike
How do you withdraw money from the Strike app?
To withdraw money from the Strike app, all you need to do is to choose to Bitcoin tab on the Strike app. After that, tap on the arrow icon in the top right. Finally, scan a Bitcoin address and enter the BTC amount. You're good to go!
What bank does Strike use?
Strike is partnered with Visa allowing you to earn rewards and cashback while spending on the partnered merchants. 
Is Strike really free?
Yes, Strike is free. It doesn't charge you anything for money transactions. All you need to pay is for the on-chain fees on the Bitcoin blockchain to secure the network.
Will Strike be available in other countries outside of the US?
Yes, Strike is planning to expand all around the globe but the availability can not be assumed as certain. It might vary depending on the region.