The Venmo credit card is a reliable option for facilitating instant peer-to-peer money transfers to friends and family members. And the best part is that this credit card allows you to earn 3% guaranteed rewards for each transaction. Additionally, using your Venmo credit card for regular purchases, you can earn 3% cashback rate on your two most frequently used spending categories.
If you're new to Venmo, you can avail of a $10 Venmo sign up bonus, then apply for a Venmo credit card and get a $200 cash bonus when you sign up for the card and spend $1,000 within the first 6 months.
You might be overwhelmed by these offerings, but let me review Venmo credit cards in detail; you will find many more insights to uncover. Hold your seats and check out this unmatchable Venmo credit card review.
What is Venmo Credit Card
Venmo is a widely-used electronic payment platform under the ownership of PayPal. The Venmo Credit Card is a no-annual-fee credit card that offers competitive cashback rewards of up to 3% for everyday purchases. 
The Venmo Credit Card is a no-annual-fee credit card that offers competitive cashback rewards of up to 3% for everyday purchases. The qualifying bonus categories comprise dining, groceries, travel, and utilities. 
And it also offers to convert your cashback into cryptocurrency automatically. So if you are a crypto investor or looking forward to it, this Venmo credit card feature will give you a thumbs up.
Venmo Credit Card: Quick Overview
Enjoy the benefits of a Venmo credit card at a $0 annual fee.
Maximize your rewards potential by earning 3% cash back on your highest spending category and 2% on the following category. 
You will earn a flat rate of 1% cash back on all purchases other than the bonus categories.
Utilize the Venmo app to effectively monitor your expenses, conveniently transfer funds to other Venmo users, and efficiently supervise your account.
There will be no additional expenses incurred when making an overseas transaction.
How to apply for a Venmo Credit Card?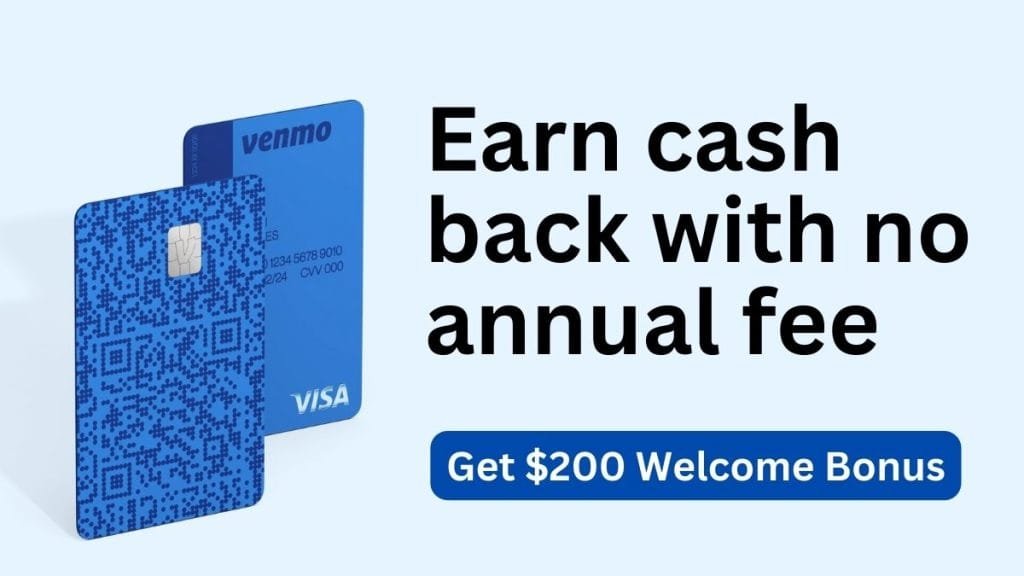 Venmo Credit Card application is subject to credit approval. You must be 18 and reside in the US or territories to apply. You need a Venmo account that has been open for at least 30 days and is in good standing.
Follow the below steps and get your Venmo credit card:
Download the Venmo app using this link.
You will see two options at the bottom, "Sign up with Facebook" or "Sign up with email." Choose one.
Verify your phone number and email address
Look for the Credit Card section or a tab with a similar name once you've logged into Venmo.
Start the application process: Click on the "Apply Now" or similar button to begin the Venmo Credit Card application process.
Provide the essential details: Your name, address, Social Security number, date of birth, and income will all be required data entry fields.
Read the Venmo Credit Card Agreement and click "I Agree" to confirm that you understand and accept its terms and conditions. 
Submit your application once you have double-checked it for errors and filled out all relevant fields.
You'll have to wait for a decision while Venmo checks out your credit history.
Venmo Credit Card Rewards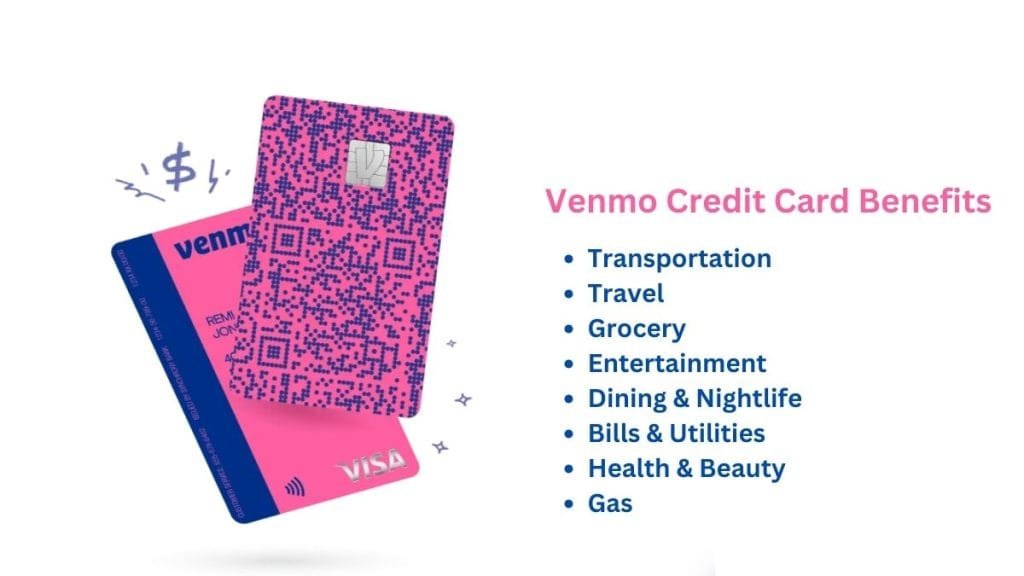 Earning Rewards
The Venmo Credit Card gives you custom cashback rewards — maximized to what you spend. You will get 3% cash back on the category where you spend the most (top spending category), 2% on the next highest category, and 1% on Everything else you buy.
The Venmo credit card earning rewards are divided into 9 categories:
Entertainment and dining include carry-out, dine-in, bars, beverage shops, and delivery.
For shorter stays, travel such as flights, hotels, motels, resorts, and Airbnb. 
Notable exclusion trips on ships.
Bills and utilities include Everything from water and electricity bills to magazine and newspaper subscriptions to internet and streaming services.
Grocery, Supermarkets, wholesale clubs, corner businesses, bakeries, and delis are all included.
Health and beauty memberships to health and fitness centers, tennis, golf, and swimming pools are included.
Entertainment includes retailers of all kinds, such as motion picture houses, theaters, concert promoters, video game shops, bookstores, newspapers, magazines, amusement parks, record shops, and hobby material shops.
Transportation everything from vehicle rentals to rideshares to taxis to limos to bus fares to train fares to parking fees to tolls to parking meters to parking garage costs.
Gas, including any convenience store that offers gasoline. Especially noteworthy, this does not exclude warehouse club and discount store gas purchases.
How to Redeem Venmo Credit Card Rewards
You can redeem any cash reward you earn directly into your Venmo account within three business days after the conclusion of the billing cycle. 
Your profits in Venmo may be utilized just like any other amount in your Venmo account, including making payments, buying things, sending money to other Venmo users, and withdrawing money from your Venmo account to your bank account or debit card.
Your cash back incentives are convertible to Bitcoin. You must enable crypto redemption and create a cryptocurrency hub to utilize your rewards to purchase Bitcoin, Ethereum, lite coin, or Bitcoin cash. 
Every month, when your cashback is sent to your Venmo account, Venmo will utilize that money to buy your chosen cryptocurrency at a discount. In all other cases, buying and selling cryptocurrency on Venmo will incur a fee.
Any rewards you earn while using your Venmo credit card will be valid if your account is active.
Venmo Credit Card Benefits
The Venmo credit card is just like a Visa; you will get the same security features as any other Visa card.
Anti-Theft Measures from ID Navigator 
With a Venmo card, sign up for Norton LifeLock's free identity theft protection program to protect your credit and get help if your personal information is ever stolen.
Rapid Financial Aid
When you use Visa and get approved by Synchrony, the money will be sent to a local location within hours.
Urgent Card Substitution
Within 24 to 72 hours, Visa can replace your card by coordinating with your bank to ship a new one. Those granted the Visa Signature card will also enjoy the following perks from the Venmo credit card.
Travel and Emergency Aid
Venmo lets you connect with the right local emergency services anytime, any day of the year.
Golf's Advantages
Troon Golf Benefits provides discounts of 10% at more than 95 courses in more than 30 countries.
Visa Signature's Perks for High-End Hotels
Some of the perks include a $25 meal and beverage credit, daily continental breakfast, and the possibility of a hotel upgrade upon arrival.
VIP Service for Visa Signature Cardholders
Visa Signature Concierge service for assistance with travel arrangements, restaurant bookings, and even finding the perfect gift for your loved ones.
Conclusion
Credit card users using Venmo may consider earning rewards through the app. However, other cashback credit cards will probably provide greater overall value without the added process of using a peer-to-peer payment app. A credit card with flat-rate earnings or a tiered rewards structure can yield higher overall returns.
Frequently Asked Questions
Can I use my Venmo credit card internationally?
Yes, you may purchase from other countries with your Venmo Credit Card. Money exchange costs (foreign transaction fees) are free of charge.
What is the Venmo credit card limit?
Everyone authorized for a Venmo Credit Card will automatically be given a $250 minimum credit limit. However, your creditworthiness may allow you to qualify considerably more.
Can I send $10000 through Venmo?
No, there is a limit of $5000 per transfer. You must initiate multiple transfers if you want to transfer more than $5,000. Keep a note of one thing Instant transfers require a minimum amount of $0.26 since the minimum instant transfer amount is $0.25.