Temu has been the talk of the town lately with millions of users looking for affordable options. But limiting yourself to one platform isn't really a smart choice!
So, if you're a fan of Temu but want to explore other options, you are on the right track. This article will guide you through a handpicked selection of apps like Temu that will meet your needs. Let's get started!
15 Best Sites And Apps Like Temu [2023]
Here's a list of the 15 best apps like Temu that will offer you affordable products. They might be different in some aspects so make sure to pick the one that suits you the best.
Wish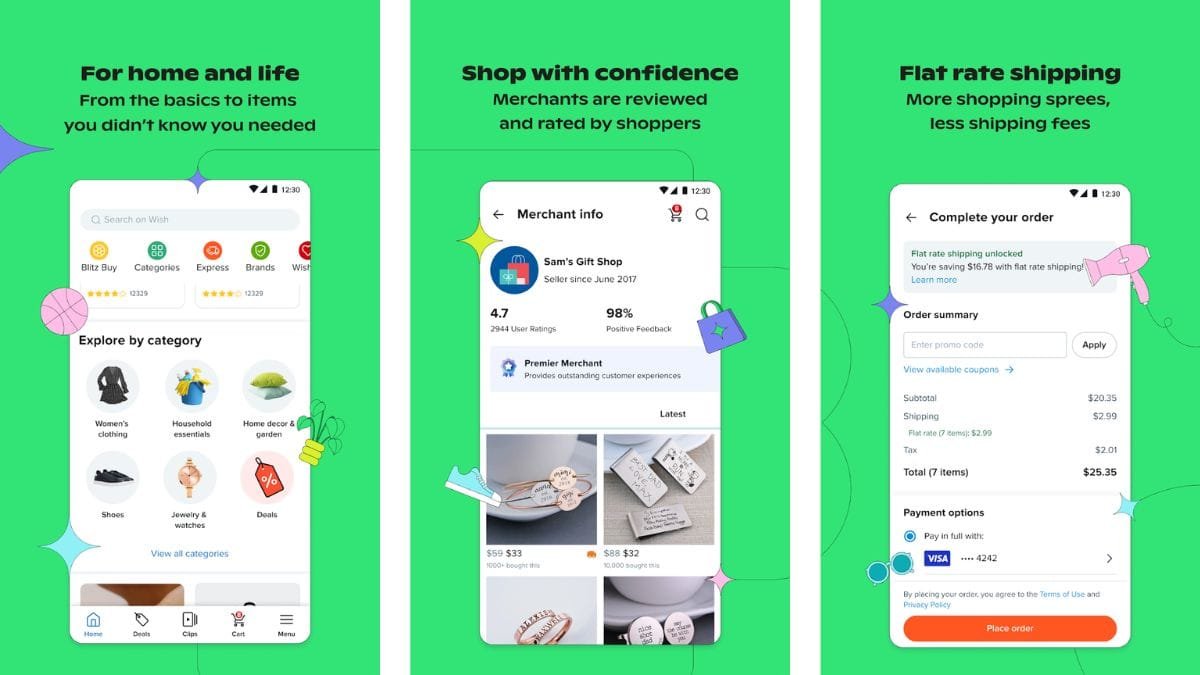 Wish is one of the best apps like Temu that connects buyers with sellers. It facilitates buyers to get free stuff and affordable items. Wish is quite a popular platform with 500+ million downloads on Google Play Store and 100 million monthly active users.
But how does Wish win over other apps like Temu? Well, it directly links you to sellers, which reduces the cost and increases the authenticity. So, is Temu like Wish too? Yes, It works the same way. And there are only a handful of such stores like Temu and Wish.
Here's a quick overview of the Wish platform: 
Don't forget to pay a quick visit to the Wish website to take advantage of their flash sales and special discount offer. 
Shein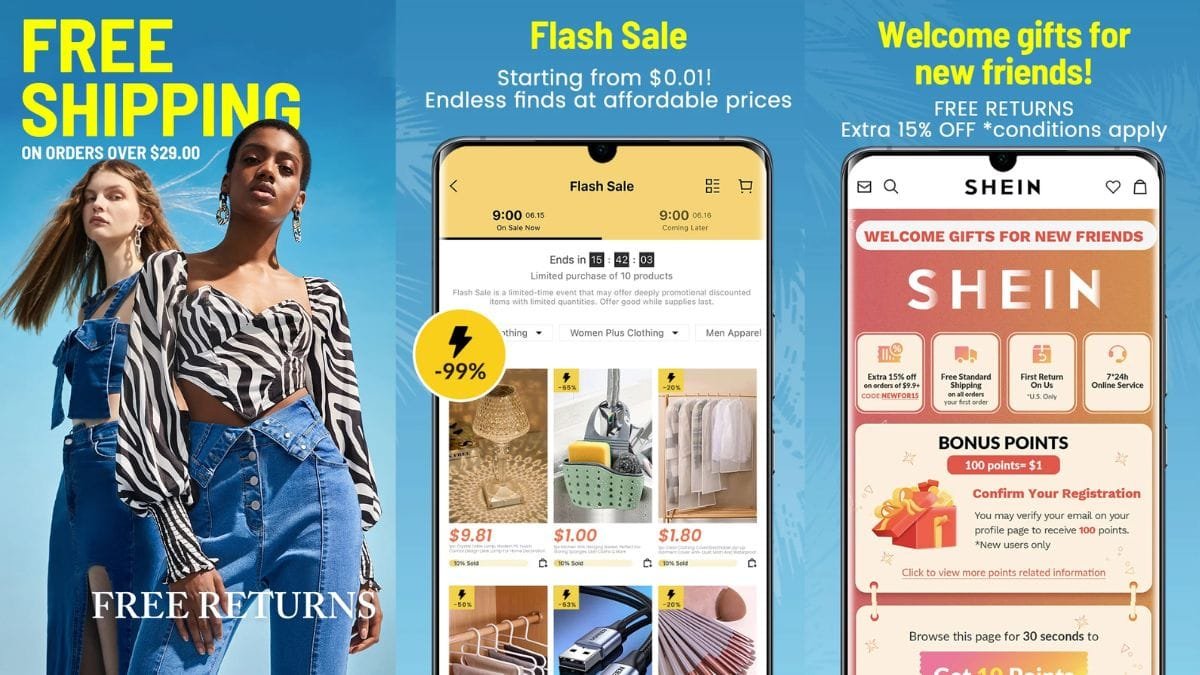 Shein is another popular and affordable shopping website like Temu and Wish. It has mainly grown in clothing and has clothes for different occasions. It is known for its friendly user interface. 
Shein also provides free shipping and different cashback on different occasions. It has a positive seller rating on different stores online. Temu and Shein both offer you more items than just clothes. You can even enjoy their beauty selection which consists of wigs, beauty tools, and personal care items.

If you want to which one is more suitable for you, read our honest Temu vs Shein review
Here's a quick overview of the Shein platform.
Now, we all have heard about Temu's promotions, let's learn what special discounts and deals Shein offers. 
You can avail of free shipping on orders above $49
As a new user, you can enjoy a 15% discount on many items.
Shein has a program that rewards its users with points. And these points can be redeemed for discounts 
Shein discounts are generally the highest during Black Friday and Cyber Monday.
All in all, Shein is an excellent alternative for Temu lovers.
eBay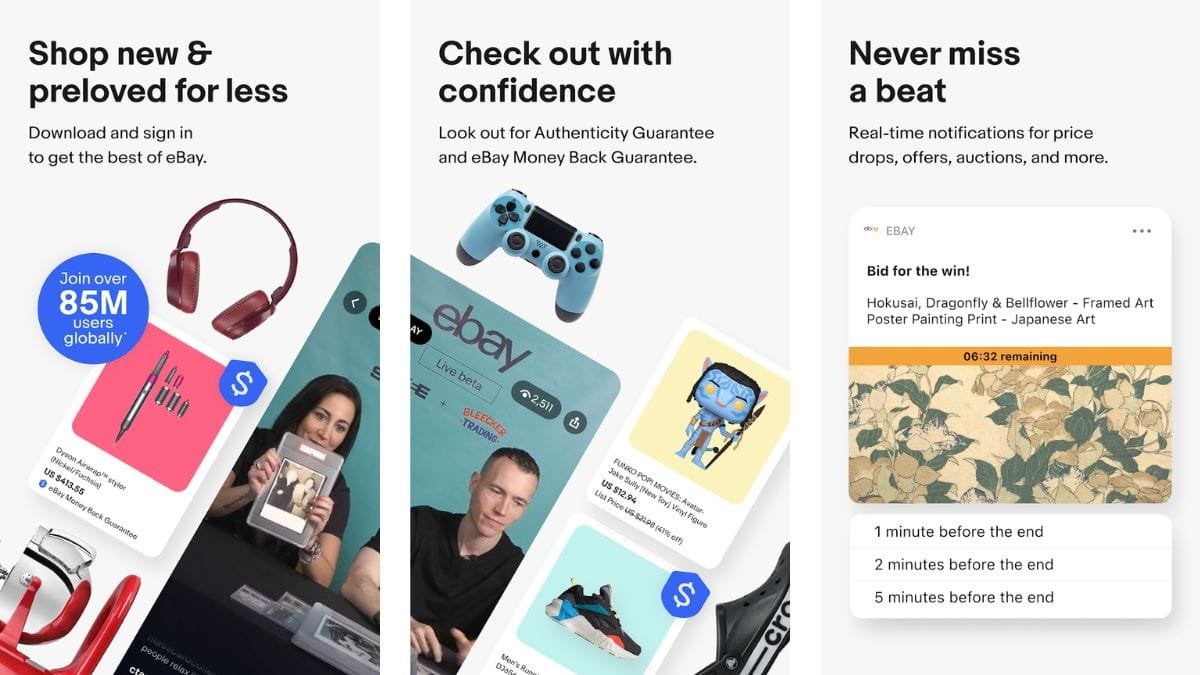 Everyone has heard about eBay: a well-known US shopping website. eBay has a little different approach from Temu, it's more of online reselling and bid-styled selling. You can bid for certain items placed on eBay for auction or you can buy certain items at a fixed price.
eBay is one of the established platforms and Temu is the fast-growing platform. eBay is like Temu when it comes to having affordable products but has a unique selling style. 
It offers products in every category including consumer electronics, fashion, home & garden, health & beauty, collectibles, and many more.
Here's a quick overview of the eBay platform:
Now, let's see some of the features of eBay:
Users can place bids on items and compete with other buyers. 
eBay features daily deals on many products and offers discounts.  
eBay is available on both Google Play Store and Apple App Store.
Amazon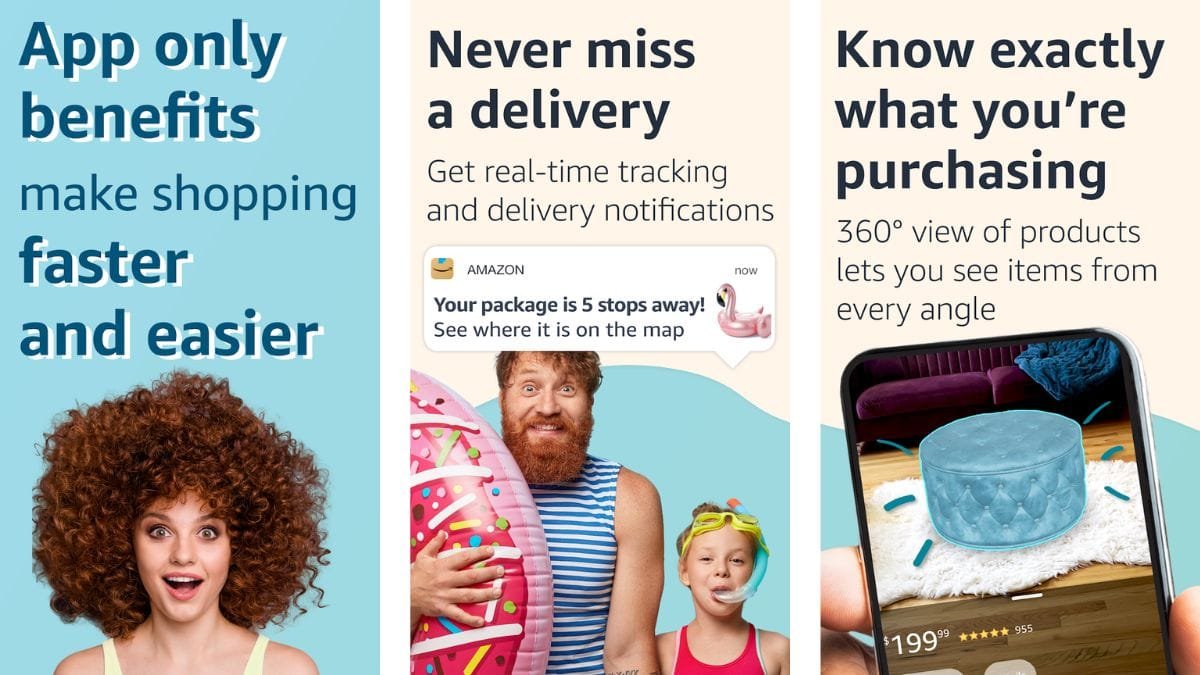 When it comes to online shopping, one name that stands out as the dominant force is Amazon. Just like Temu, Amazon deserves a place among the best sites in the e-commerce world. 
Amazon has more than 200 million users every month. 
The top priority for Amazon is customer care by offering a user-friendly interface, fast shipping, and excellent customer service.
Let's learn about this shopping giant:
Walmart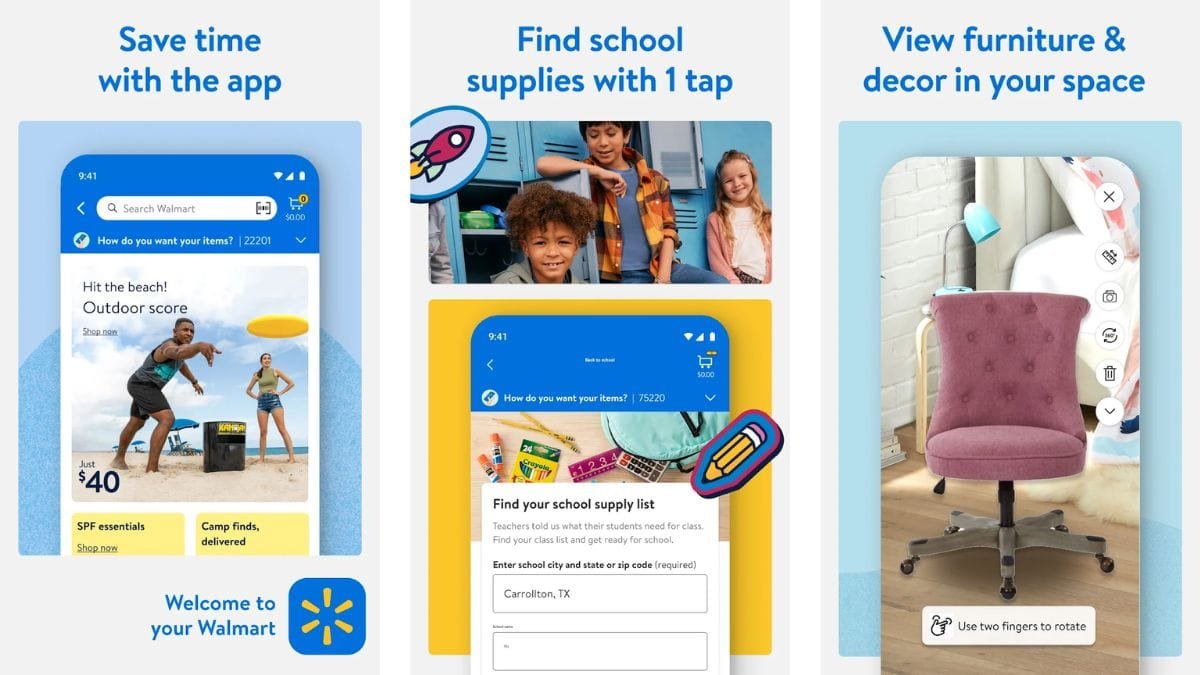 Walmart works in a unique way. So, what makes it different? It actually carries products sold by third parties. But just like Temu, it is known for its variety and it offers the best prices. 
Walmart has a network of suppliers to provide a diverse range of products to meet customer demands. It offers everything from daily essentials, you can buy anything.
Here's an overview of Walmart:
Here are some of the cool features that you should know about Walmart: 
Walmart's Savings Catcher features allow the customer to compare the prices with nearby competitors. And help you to find the lower price.
Walmart provides you with both delivery and pickup options. 
To enjoy free delivery from Walmart stores you should get a Walmart+ subscription. And you can also get low prices fuel at Walmart Fuel Station. 
Every week Walmart displays weekly ads that highlight discounted products and special offers.
As we see, Walmart is like Temu when it comes to the variety of products and discounts.
Etsy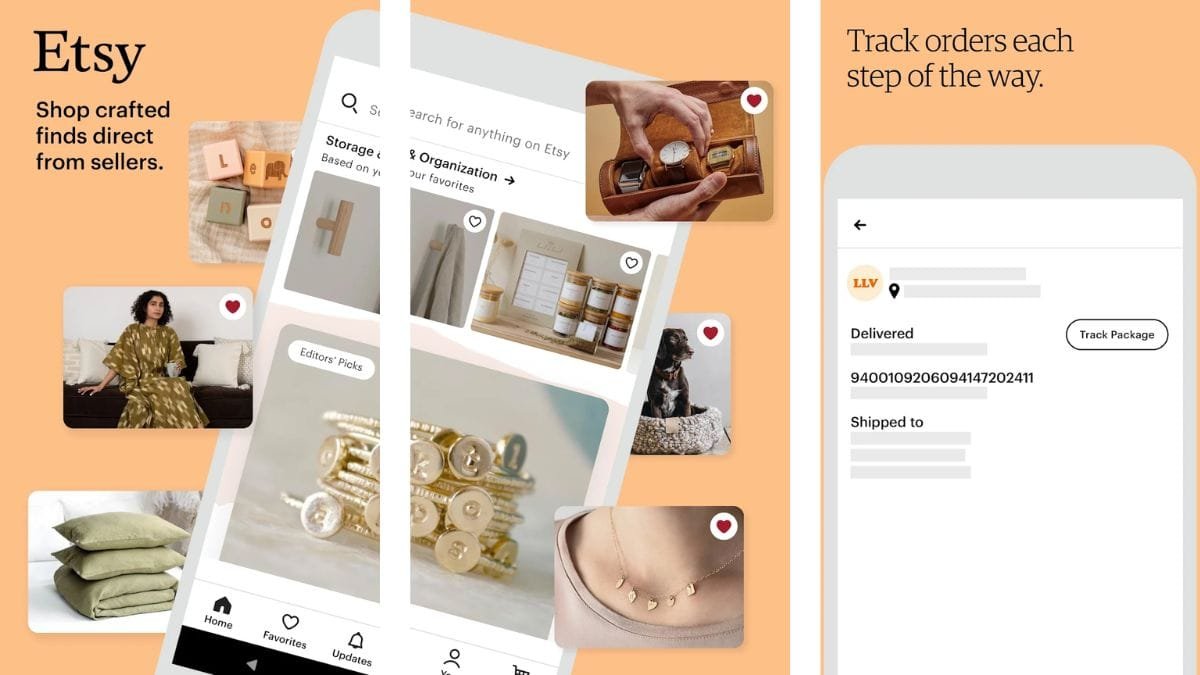 Next on the list is Etsy – an online marketplace just like Amazon, eBay, and Walmart. It specializes in handmade, vintage, and unique products. But Etsy only targets some specific kind of audience. Artists minds all over the world list their unique ideas and products on Etsy. 
You can find almost everything on the platform. It has 20 years old vintage stuff listed on the website. Products like Etsy are hard to find on any other website.
Here's what you need to know about this platform:
Now let's explore what deals and features Etsy offers. 
Etsy offers special discounts during seasonal promotions like Black Friday, Cyber Monday, and Holiday sales.
Etsy gets average traffic of 377.4 million per month 
Etsy has 80% of female sellers
It has a dedicated "Sale" section where sellers list discounted items. 
So, if you have a creative mind, Etsy is an excellent alternative to Temu for you.
Dollar General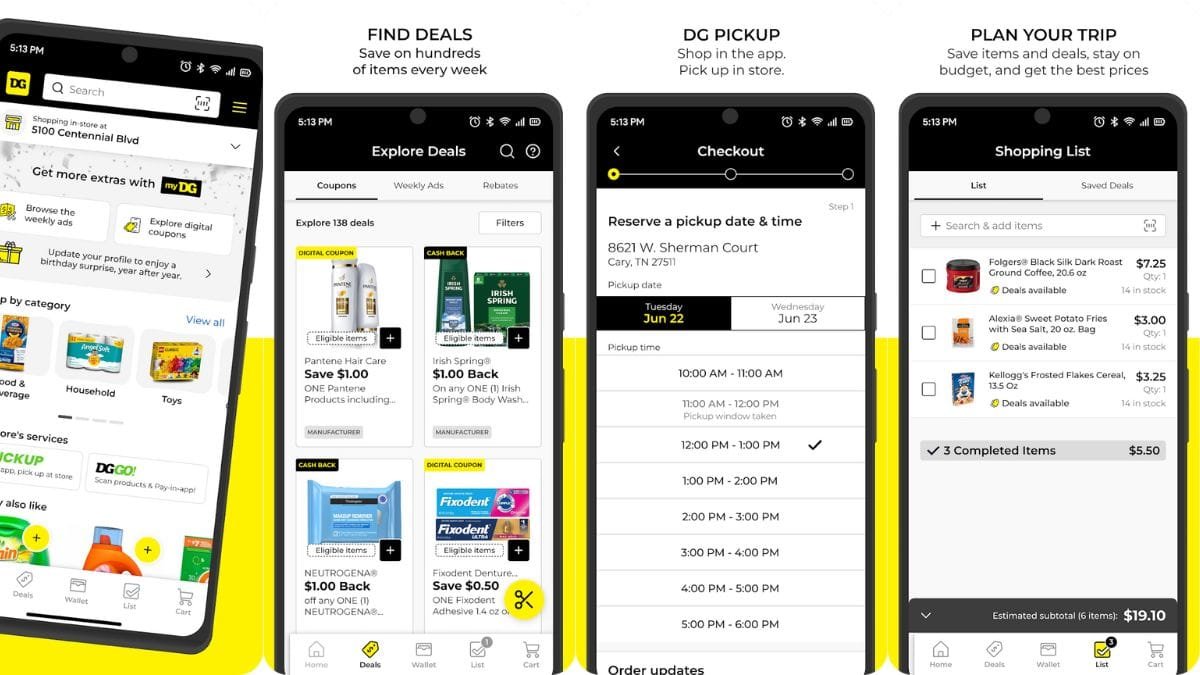 Dollar General is another app like Temu in the e-commerce world. It has been downloaded by 10 million people all across the world. Dollar General is famous for offering a vast variety of everyday items at affordable prices. 
But what really makes it similar to Temu? It has a coupon section for its customer where you can view all the discounts, incentives, and deals. Like Temu, you can find categories like health, kitchen, gardening, electronics, personal care, food, and many more. 
Sounds interesting? Here's what you need to know:
Now, let's check out some of the special discounts and deals Dollar General brings to the table:
To get free delivery you have to spend over $40
It offers digital coupons through its mobile app and website.
Dollar General frequently offers dollar deals, where some of the items are priced at $1 or less.
Banggood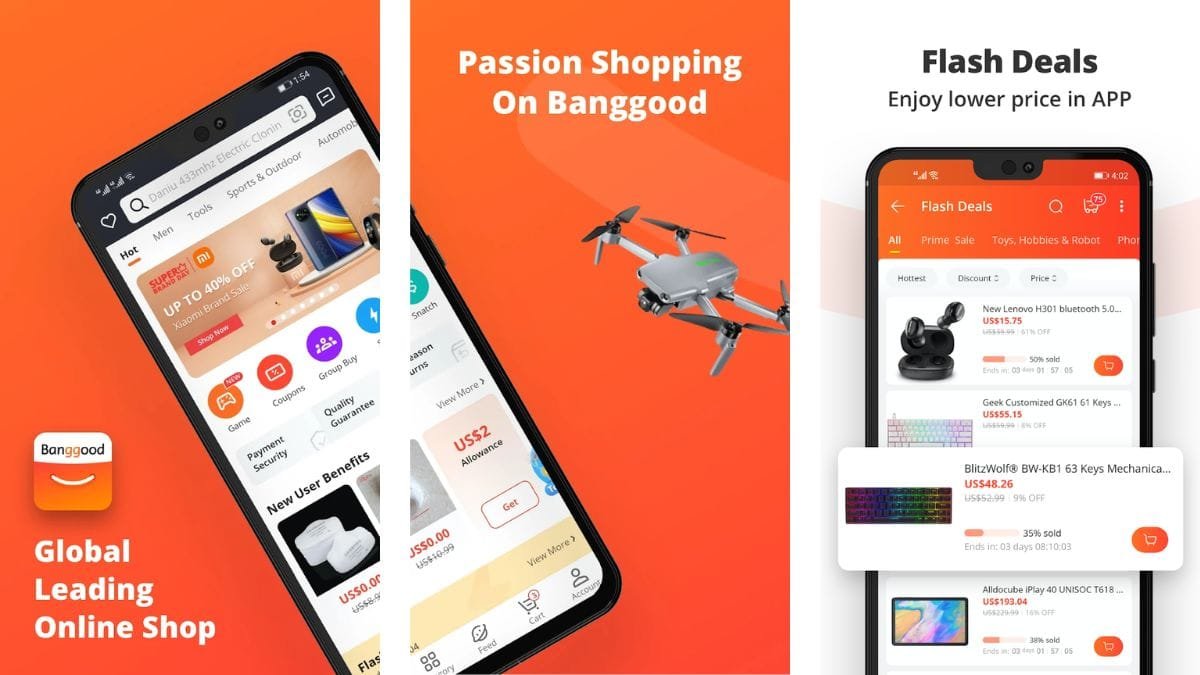 Oh, here's another tough competition: Temu vs Banggood, which one is better? Well, let's see. Bangood is popular around the globe because of the price-friendly and quality products that are shipped globally. And the same goes for Temu, so it's on you to decide which is better for you. However, Temu is relatively new so it hasn't been established yet.
Banggood has products for every category you need including kitchens, pets, gardening, utensils, electronics, and many more. 
Here's an overview of the Banggood platform:
Let's explore the features and deals Banggood is offering which make it an alternative to Temu: 
It offers more than 40 payment options with 24/7 live support
You can shop from anywhere in the world as Bangood offers worldwide shipment. 
Due to competitive prices, Banggood sellers often offer products at discounted prices. 
Family Dollar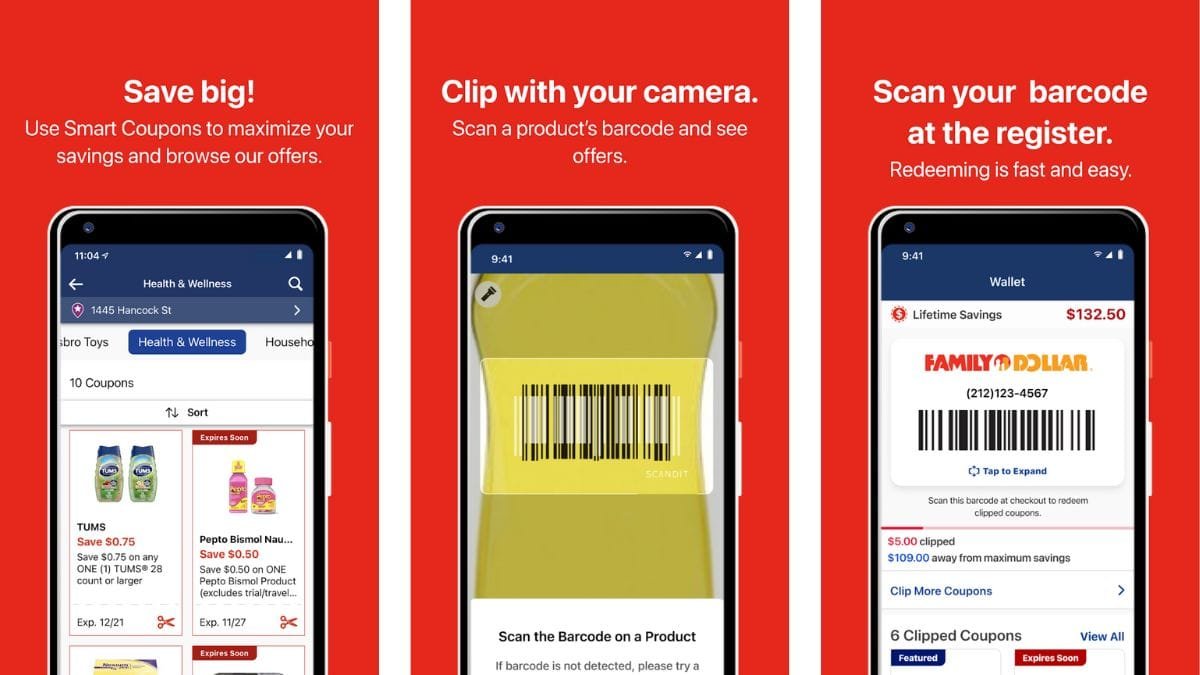 Family Dollar, just like Temu, offers a wide range of affordable products for basic needs. It provides families with budget-friendly shopping options. 
Using the app, you can collect digital coupons that can be redeemed at different stores by using your app's barcode.
Let's learn about this app.
Temu alternative must be big on discounts and deals, so let's see what Family Dollar brings to the table:
It offers deals that you can get by scanning product barcodes in stores.
It releases weekly ads and digital coupons that are accessible through its website or mobile app. 
You can check out the regular promotion such as "Deal of the Week" or "Monthly Specials"
You can easily find the near Family Dollar Store. 

It is listed among the best apps like Temu since it allows you to save on your purchases.
1688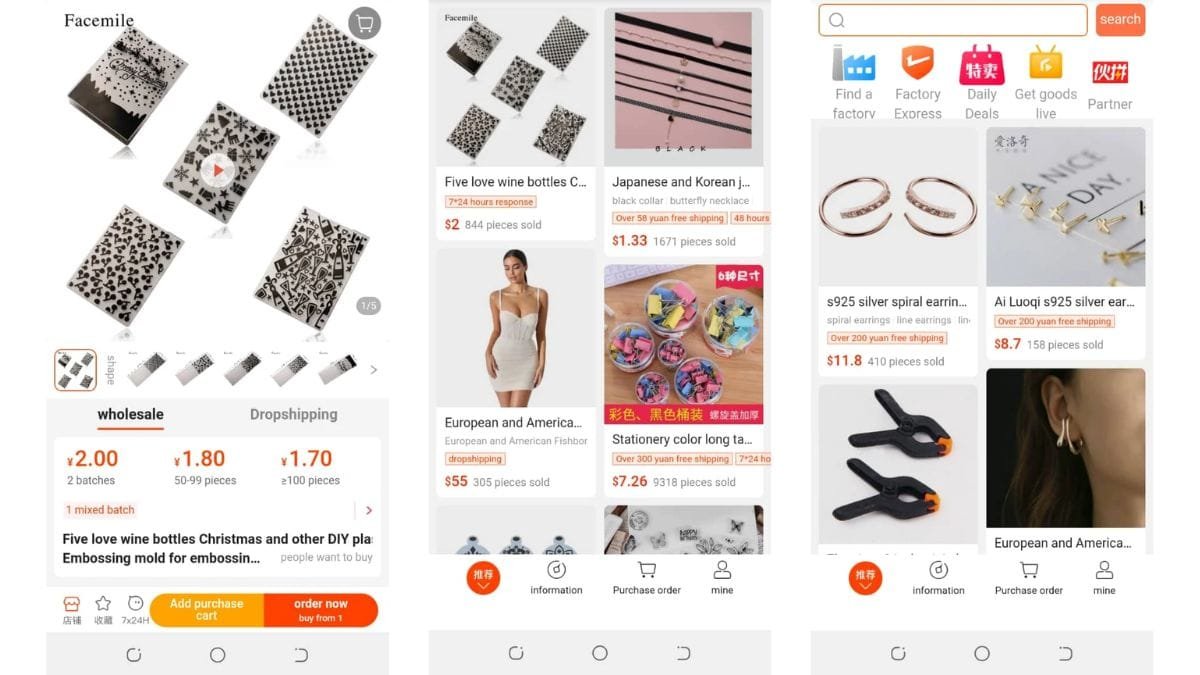 1688 is an online store just like Temu. It is owned by the Alibaba Group and has established itself. Alibaba is one of the largest international e-commerce stores specializing in wholesale.  
Most online sellers use 1688 to get their stock prepared. It connects domestic and international buyers with suppliers and manufacturers for wholesale trade. But keep in mind that it has a relatively low rating on App Store.
Here are some of the features and deals 1688 offers to its buyers: 
1688 has verified batches for the manufacturers they trust. 
Payment for products is secure through the platform's built-in transaction system. 
RFQ feature on 1688 allows buyers to submit specific product requirements. This can help buyers compare prices and negotiate for the best deal.
Buyers can collaborate with suppliers to create custom products for their brands. 
If you deal with wholesale purchasing of products, you can consider 1688 instead of Temu.
Joom
Joom is another platform where you can find all products you need. Just like Temu, Jhoom has different categories like electronics, home and garden, beauty and hair, toys and hobbies, sports, and outdoors. 
If you go through the app you will notice many discounts on several items. You can pay with various means such as ApplePay and PayPal. 
Mercari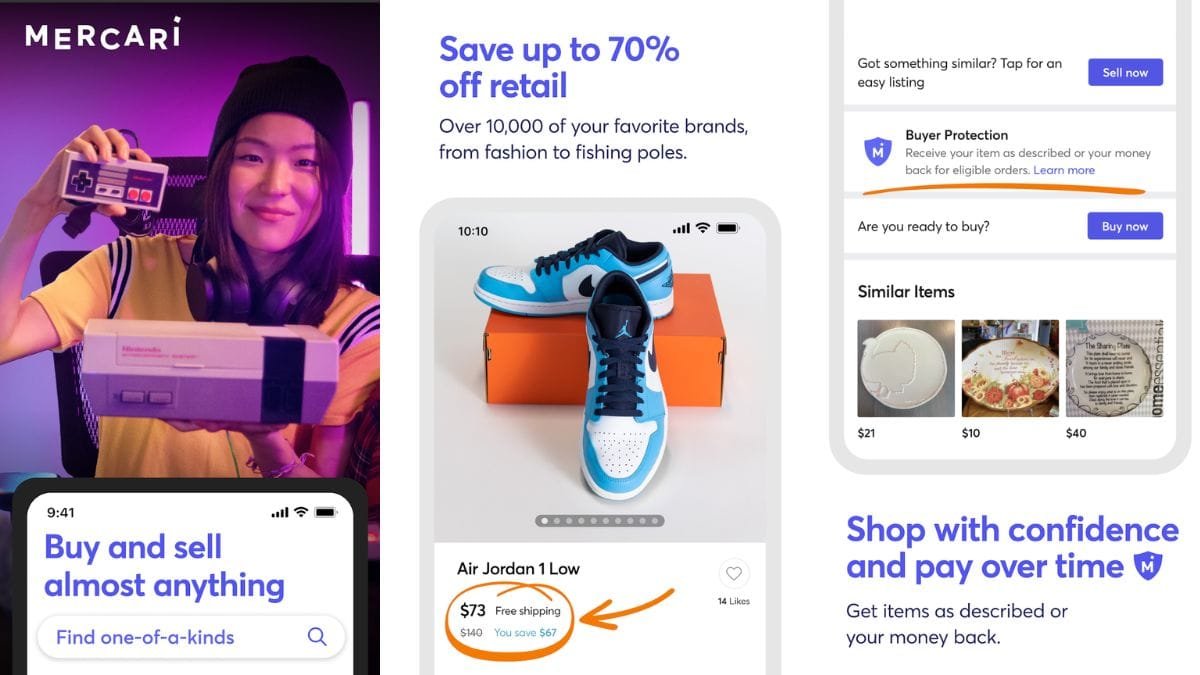 Mercari is one the fastest growing platform in the US. It is compared to Temu in terms of affordability. It allows its sellers to sell or buy preowned or second-hand products.  
Mercari is the best place to buy the products of the brand you can't afford. It has a unique feature where buyers can negotiate prices with sellers.
Now, let's learn about the features Mercari offers: 
The Mercari app has a simple interface and is easy to use.
You will find various payment methods, including credit cards, PayPal, Zip, and Cash App.
You can always find handmade and unique items on the Mercari app 
You can order local items directly to your doorstep. 
All-in-all, Mercari is a budget-friendly alternative to Temu. 
LightInTheBox
LightInTheBox founded in 2007 in China is another one of apps like Temu. It is known for its efficient delivery time and quality products. 
People use LightInTheBox to buy products of various categories that include electronics, home and garden, beauty and hair, toys and hobbies, sports and outdoors, and weddings events. 
Here are some of the features and deals offered by LightInTheBox: 
LightInTheBox offers a bonus of 20% off for new users.
There are shipping discounts for users around the world.
It takes 5 – 20 days to ship their international orders. 
It offers a variety of products for daily life routines with exclusive features and discounts. And it makes LightInTheBox the best alternative to Temu.
DHGate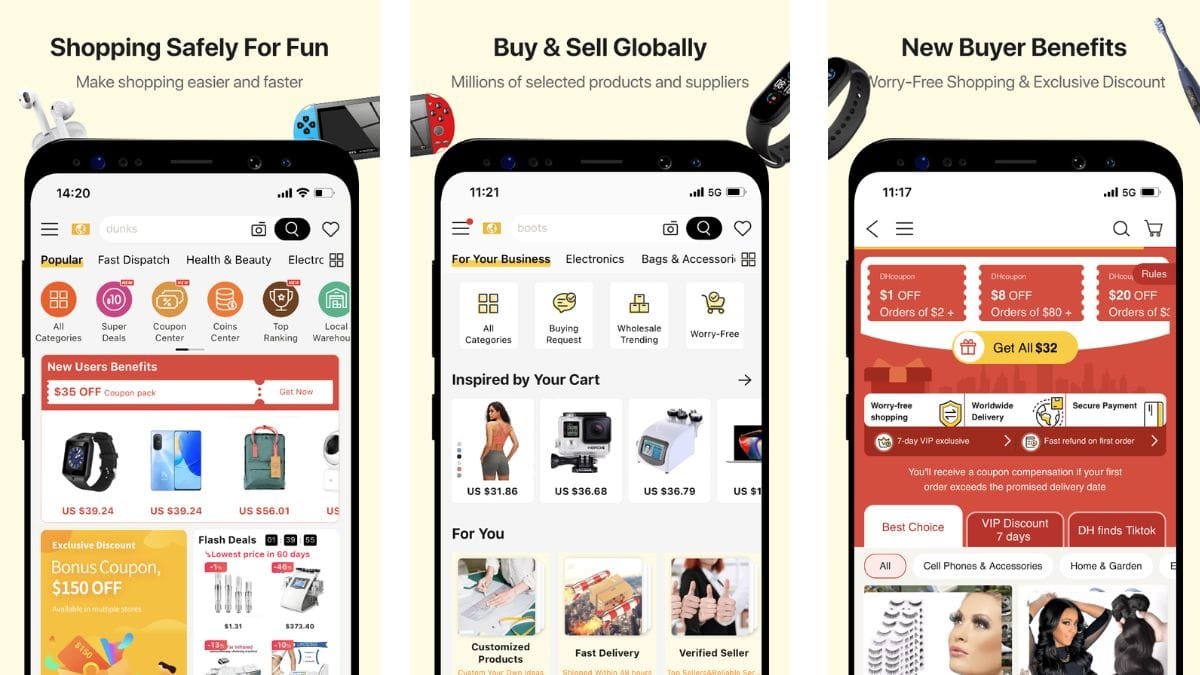 DHGate, one of the oldest shopping platforms, is just like Temu. It specializes in affordable prices and a vast variety of products. It is a wholesale market that connects buyers with different sellers in China. 
DHGate mostly focuses on bulk deals. It offers new user coupons to its new users. 
Let's discuss what features and deals DHGate offers to its users: 
DHGate offers new user coupons to its new customers
They offer shipping services all over the world 
 DHgate offers a buyer protection program that ensures you receive the products as described.
You can find deals, flash sales, and coupon codes on their website or through their mobile app.
These are just a few of the Temu alternatives. There is a whole world of other wholesale sites like Temu that you can explore.

Looking for apps to earn free money like Temu? Here are the best apps that offer sign up bonuses. 
Apps Like Temu To Get Free Stuff
There are countless undiscovered apps like Temu to get free stuff out there in the world. Here are some that we have explored: 
Swagbucks
KashKick
InboxDollars
Just Free Stuff
Rebaid
Go Freebies
Before you sign up for apps similar to Temu, you should ensure they are legit. In case you are curious about Temu, read our review on Temu's legitimacy to make an informed decision.
Apps Like Temu With Referral Bonus
In this section, you will learn about 7 apps like Temu with referral bonuses. 
Oh, and here's a bonus for you: We have recently discovered apps that pay $100 a day. Make sure to take advantage before they end the offers.
Final Note
Temu has made a good place in the market. But it's always good to think out of the box and not rely on one app. There are many apps cheaper than Temu that offer you a quality experience and the best cashback. We have personally tried and tested the apps named above so go ahead with any one of these without a doubt!