Sling TV is one of the best sources of streaming your favorite live content and has earned a good name among sports fans around the globe. It is also the official broadcaster of famous sports leagues such as the IPL and  NBA. 
Currently, there is no Sling TV free trial. However, it offers a 50% discount to new customers. You can also save money by trying the Sling Free version, Sling's Willow Cricket Package (for cricket fans), and more deals available on the app. 
Read this post to learn about the cheapest ways to purchase Sling TV, its prices, and how to cancel it. Also, it is essential to read the Sling TV review before buying its plan to make a better decision. 
Is There A Sling TV Free Trial?
There is no free trial available on Sling TV. However, it provides budget-friendly deals to new customers instead, which change from time to time. Currently, Sling TV offers a 50% monthly discount on Sling Blue and Sling Orange plans. 
As the Sling TV offers for new customers constantly change, this information is latest of March 2023. There are also some alternative ways for the free trial, which you should use if running low on a budget. 
About Sling TV
Sling TV is an over-the-top American streaming service that aims to provide live and on-demand content at the cheapest possible rates. Sling TV is a good substitute for cable TV and satellites, which is compatible with almost all smart devices. 
Unfortunately, the services of Sling TV are only available in the USA, but outsiders can also enjoy its services through a VPN. It is also one of the best ways to watch IPL in the USA. 
Following are some best free VPNs that will help you to enjoy Sling TV outside the US:
atlas VPN 
Express VPN
Nord VPN
Windscribe VPN 
TunnelBear
Proton VPN 
How to Sign Up For Sling TV 50% Discount?
To save money on your first Sling TV subscription, you have to sign-up on Sling TV, through the official site or by downloading the app.  Here is a detailed step-by-step guide explaining how to get a 50% discount on your first Sling TV subscription and get a free Amazon fire stick lite. 
First, visit the official website or download the Sling TV app. 
Open the app, and enter your E-Mail address and password.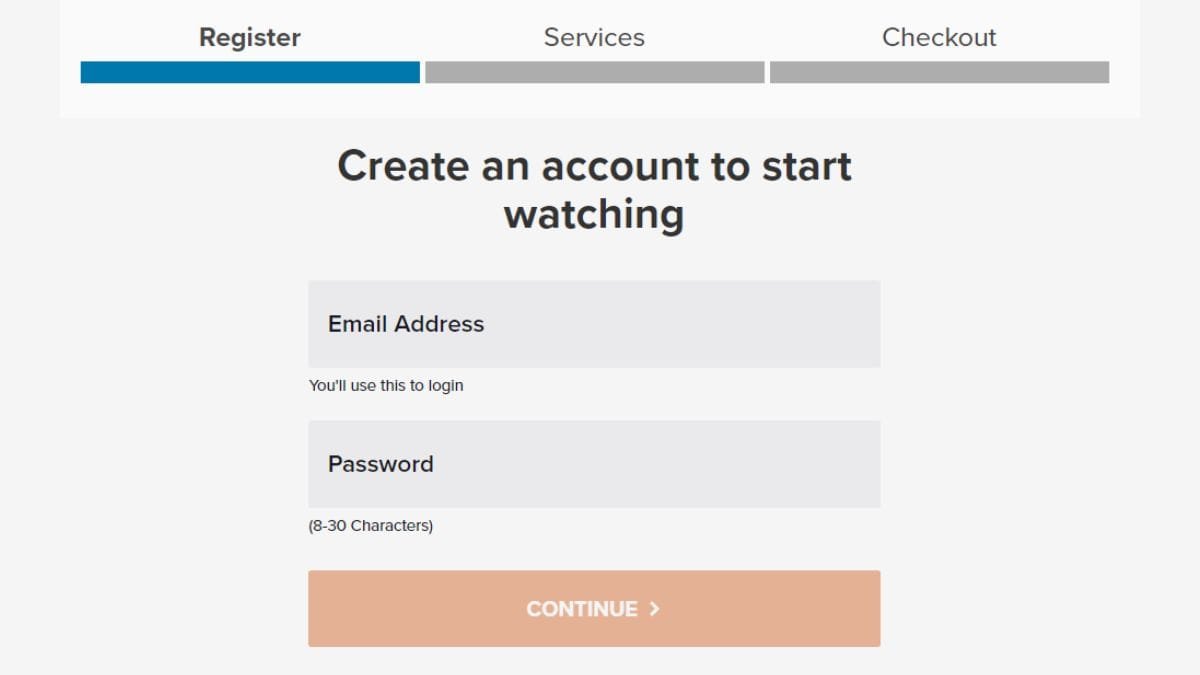 Now, choose a plan according to your needs, and include add-ons to your subscription if needed.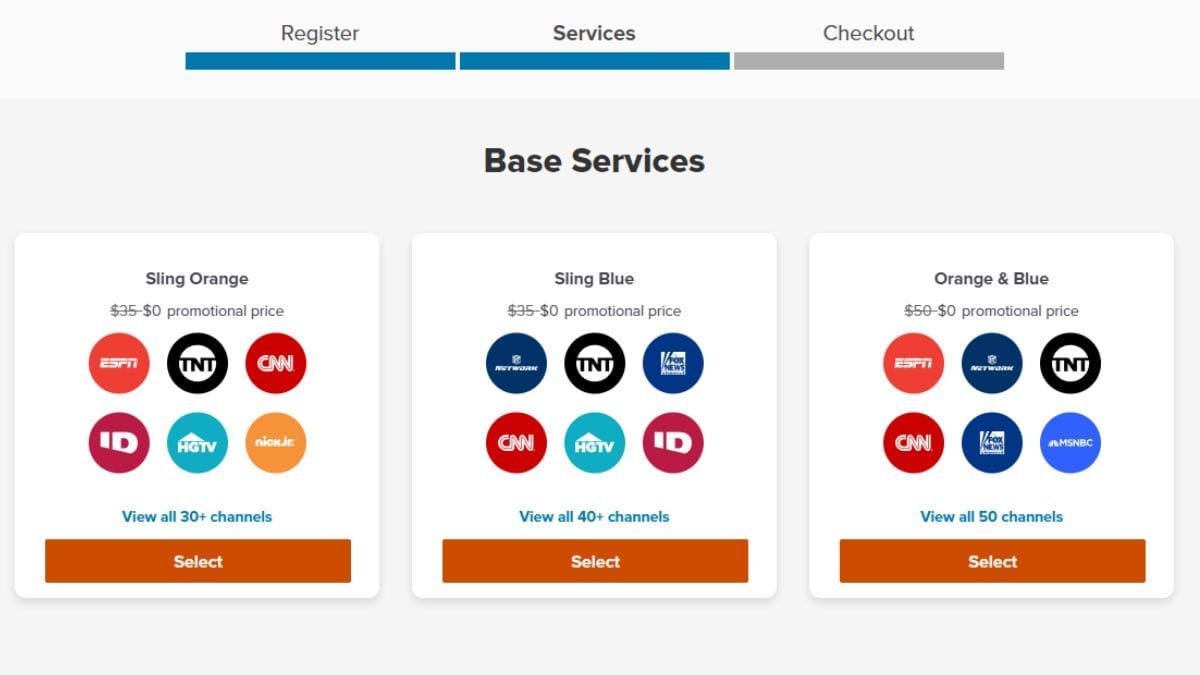 Now, enter your billing information.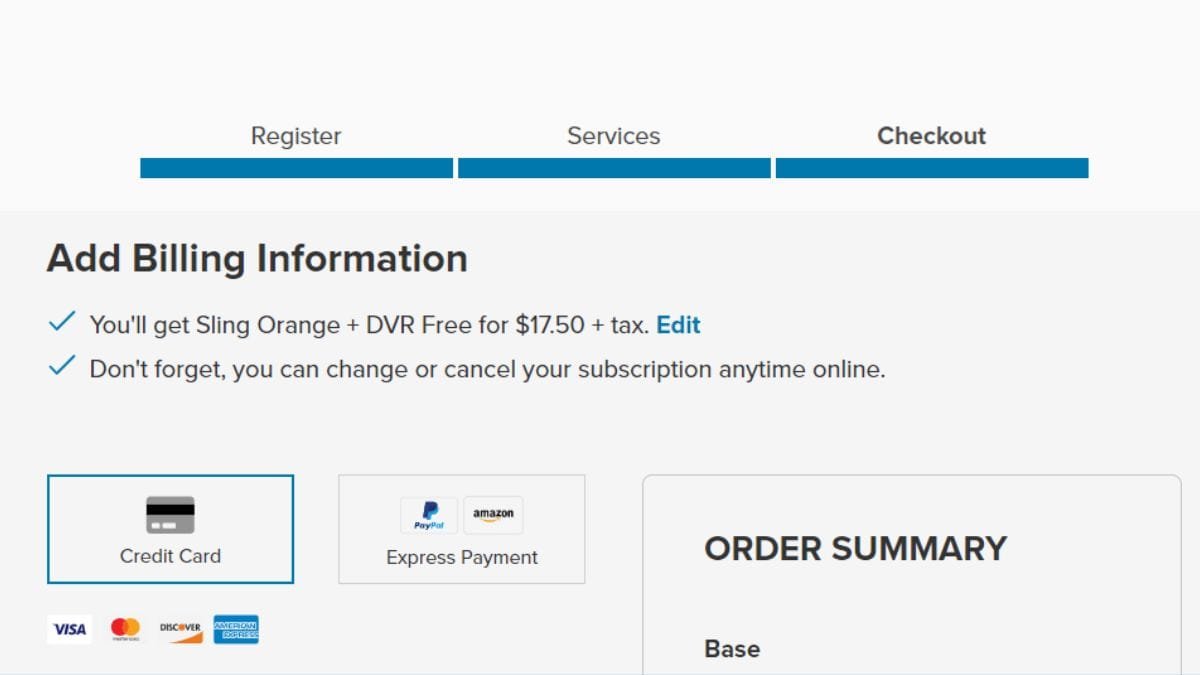 You have been successfully subscribed to Sling TV packages!
Download links: 
As we discussed, there is no free trial, but you will be charged half the regular price on your first subscription. After it ends, you must pay the standard prices for Sling TV packages onwards. 
Sling TV Packages 
The Sling TV offers three basic packages ranging from $40 to $55. After your free trial ends, and you find the app suitable and want to enjoy more services, the Sling TV packages are always available. 
How Much Does Sling TV Cost?
All these Sling TV packages include different channels and extensive content coverage with 50 hours of DVR storage. 
| Plans  | Price per month  |
| --- | --- |
| Sling Orange  | $40 |
| Sling Blue  | $40 |
| Sling Orange + Sling Blue  | $55 |
The plans of Sling TV are pricy, so those looking for the cheaper one should read the ESPN Plus review. 
How To Get Sling TV At The Cheapest Rates?
If you are looking for a pocket-friendly streaming service, Sling TV is the one. Except for the free trial, there are other ways to save money, listed below:
Sling Free
The Sling TV offers some free content with Sling Blue, Sling Orange, and the combined Sling Blue+ Sling Orange. Sling free subscription includes up to 100 live channels and 40,000 hours of on-demand content. 
There is no long-term contract for Sling Free; there is no need to provide your credit card information. Download the app, create an account, and enjoy the free content. 
However, this content is limited compared to the paid versions; therefore, customers can upgrade from free to paid Sling whenever needed. 
Sling's Willow Cricket Package
Another way to save your money on Sling TV is by purchasing the Sling's Willow cricket package; if you're a cricket fan, we prefer to purchase this plan as it will give access to Willow and Willow extra for free. 
Other Deals and Packages
Except for the three basic packages, the Sling TV offers many other packages and add-ons. They are available at reasonable rates, and you can purchase them easily through the app. These bundles are one of the best savings sources on Sling TV. 
Do you want to enjoy free live streaming for 7 days? You should go with the FuboTV free trial. 
Wrap up
If you are looking for a streaming service with all your favorite content at reasonable rates, Sling TV is the best for you. 
As we learned, there is no Sling TV free trial. But you can still purchase it cheaply. Hopefully, you found the best ways to enjoy Sling services, for free or at affordable rates. 
FAQs for Sling TV 
How long is the Sling live TV free trial?
A free trial is used to determine if the streaming service is suitable for you. Sling TV offers a free trial and other discounts and opportunities for new customers, which change constantly. Hence there is no specific Sling TV free trial length. 
How do I change my Sling TV plan once I subscribe to one?
If you have bought a Sling TV subscription but want extra channels and features, you can easily change your plans anytime through the account dashboard. Click "edit subscription" and make the changes you want. 
How to get a free Sling TV trial on Roku?
To enjoy the services and Sling TV free trial on Roku, open Sling TV's official website on any browser or download the app from Play Store. Follow the same sign-in method as mentioned in the post. 
What does the Sling TV free trial include?
The Sling TV free trial gives access to several premium channels and content from Sling Blue, Sling Orange, and Sling Blue+Orange.