Sling TV is a popular streaming service that offers various packages and live content at low rates in the comfort of your home. Read this Sling TV review to learn more about the platform and discover what you should know before purchasing its subscription. 
Sling TV Review At a Glance
Before getting into the details of the Sling TV review, let's review some interesting facts about the platform.
Sling TV offers the popular and most-wanted channels at low rates. 
If you're looking for a family plan, we prefer not to buy the Sling TV.
Sling TV streams most of the national, international, and regional content. 
Sling TV offers the most flexible and pocket-friendly plans with exciting features. 
If you're a sports fan looking for a streaming service, you can read our ESPN Plus review. 
Sling TV Pros and Cons
Sling TV is a reliable streaming service with many advantages and drawbacks. Here is the list of the pros and cons of Sling TV.
| Pros  | Cons  |
| --- | --- |
| You can easily purchase subscriptions at affordable rates. | Limited channels.  |
| Many add-ons are available on subscription.  | The channel distribution and cloud DVR could be better.  |
| Parental controls and movie rentals are available.  | |
What is Sling TV?
Sling TV is one of those best services which provide live and on-demand content without long-term contracts to USA residents. It was launched in 2015 in the United States of America by dish network. 
It is the best alternative for TV cables; you will pay for only the channels you want. Therefore receive a reasonable bill at the end of the month.  Sling TV is also one of the best ways to watch IPL in the USA. 
How Does Sling TV Interface Work?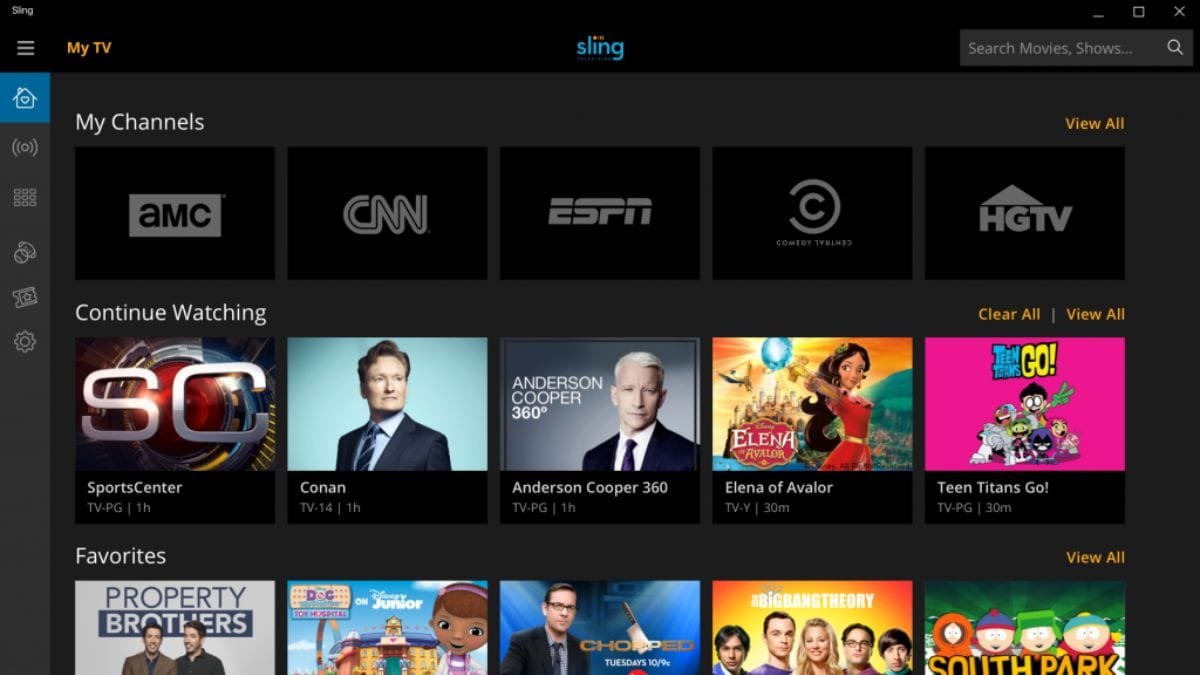 The Sling TV interface is just fine compared to other streaming services. Recently Sling TV launched a new update with a more efficient interface to satisfy the users. This one is easy to navigate. 
You will find several tabs on the homepage, each with a unique option. These tabs include a guide with navigation tools, a DVR tab, rentals, and sports. You can also search for the on-demand content through the tab present at the top. 
The home page shows personal recommendations, and we also like the Rentals feature (similar to Amazon Prime). You can easily rent movies through this feature. There is a profile icon and a search bar at the upper right corner; You can search for your favorite movies or live matches through the search bar. 
If you want to learn about another streaming service with an efficient interface, we recommend reading our JioTV review.
How to Get Sling TV?
Before subscribing to any package, you have to first log in to Sling TV. Here is a detailed step-by-step guide explaining how to subscribe to Sling TV.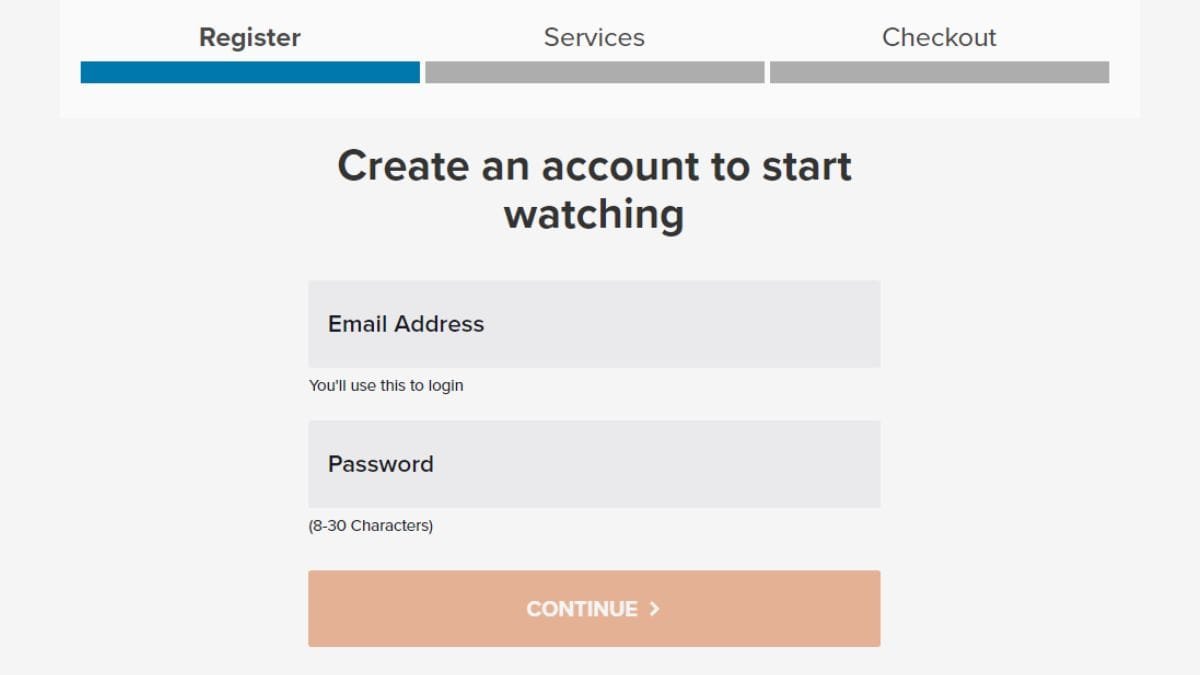 First, visit the official website or download the Sling TV app. 
Open the app, and enter your E-Mail address and password. 
Now, choose a plan according to your needs, and include add-ons to your subscription if needed. 
Now, enter your billing information. 
 You have been successfully subscribed to Sling TV packages. 
Download links: 
Sling TV Subscription and Plans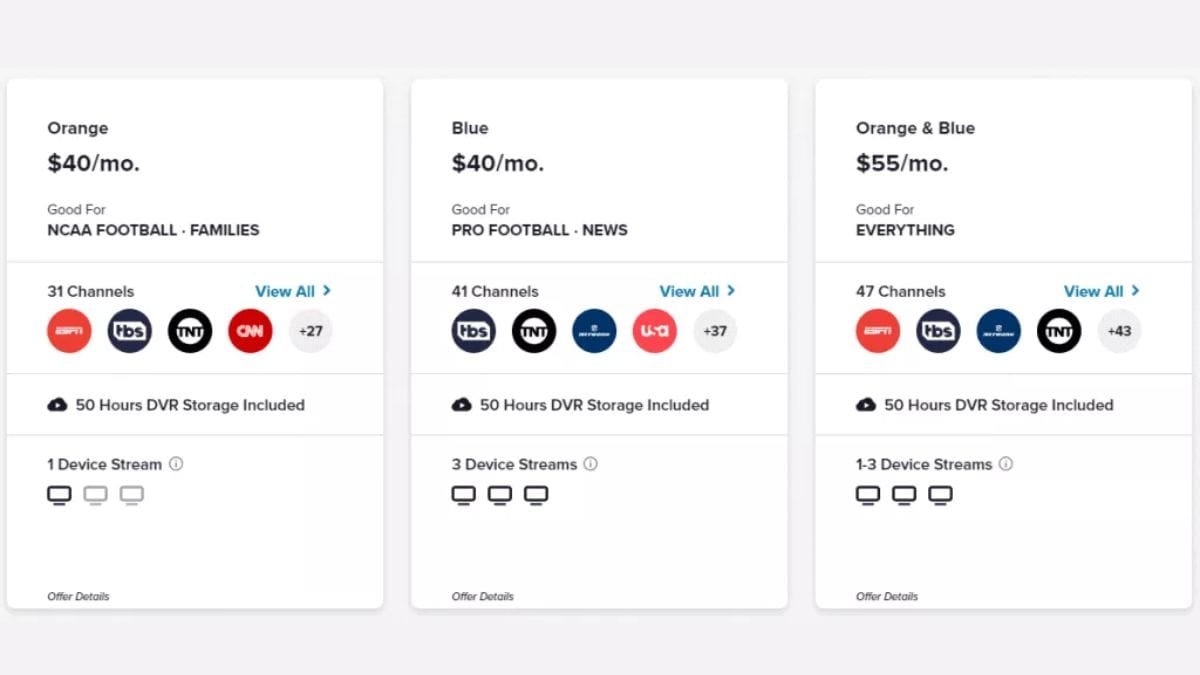 If you want to pay less for the popular channels with specialized add-ons, we prefer to purchase Sling TV. It offers three different plans, all offering different content and features. 
| Plans  | Price per month  |
| --- | --- |
| Sling Orange  | $40 |
| Sling Blue  | $40 |
| Sling Orange + Sling Blue  | $55 |
Sling Orange 
The monthly cost of Sling TV's orange plan is $40, and it offers live and on-demand content. You can enjoy up to 30 channels with the feature of Cloud DVR through this plan. 
The Cloud DVR lets you record your desired content and stream one screen at a time through this package.
Sling Blue 
The Sling offers the Sling Blue plan at the same price as the Sling Orange and offers kids, sports, and entertainment content. Hence, this plan is best for those looking for wide content coverage. 
It gives access to up to 40 plus channels with 4 simultaneous screens. The Cloud DVR option and watch later are also available in this package. 
Sling Orange + Blue
If you want all the channels and features of Sling TV at lower rates, this plan is for you. The Sling Orange+ Blue subscription plan includes all the content available on Sling Orange and Sling Blue.
It offers more than 48 channels with 4 simultaneous screens. This plan also includes Cloud DVR storage, and you can save $25 if compared with purchasing both plans separately.
Sling TV Add-on
Sling TV offers Sports Extra as an add-on with Sling Orange and Sling Blue for $11. However, if you purchase Sling Blue + Sling Orange, you will get an add-on for $15 with extra channels. 
The Sling TV also offers all extras and Premium Add-on.  You can purchase any Sling TV add-on which suits your budget and requirements. 
Does Sling TV Offer a Free Trial?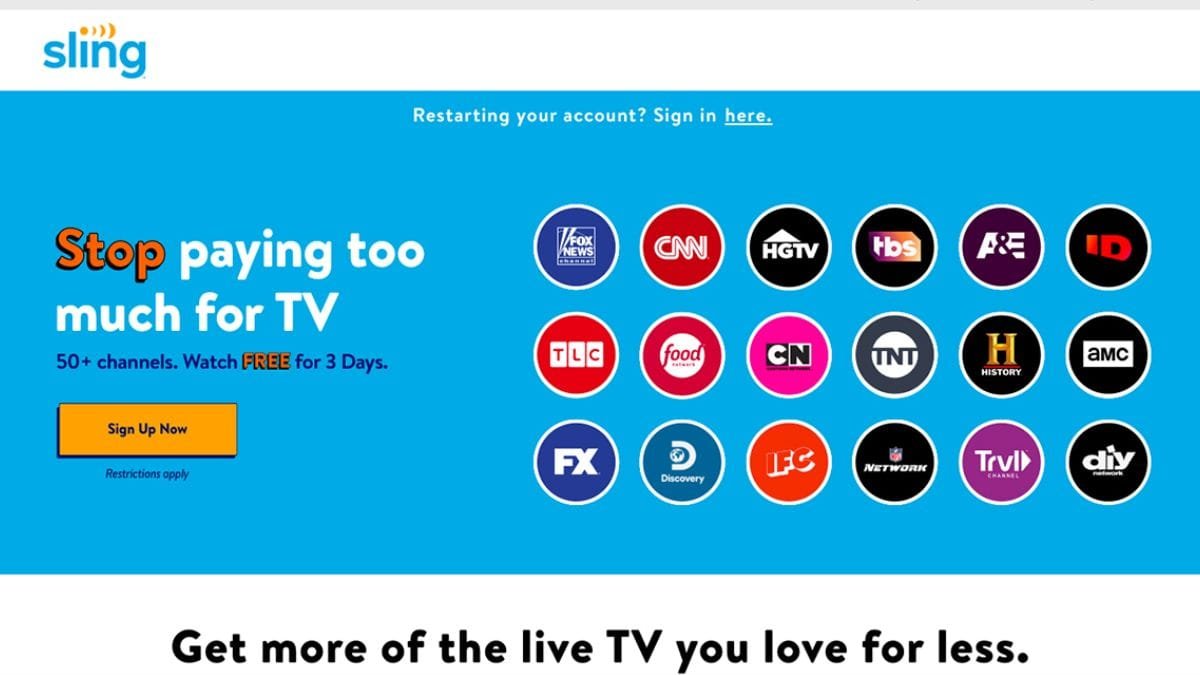 There is no free trial on Sling TV as of now, but it provides many alternative ways to save money. New customers can enjoy a 50% discount on their first subscription. Additionally, it offers a Sling Free, through which you can enjoy the on-demand content from Sling's library. 
But the content on Sling Free is limited; therefore, if you need more channels, you can purchase the paid subscription anytime. If you want to learn all about these alternative ways of saving money, you can read Sling TV's free trial. 
Do you want a streaming service for free? Fubo TV offers a 7-day free trial for all its services. 
Which Channels are available on Sling TV?
Sling TV offers less number of channels if compared with other streaming services. But still, it provides the majority of popular channels which most customers want.
If you're looking for a streaming service with many channels, you should read our Fubo TV review. 
Here is the list of the popular and most-wanted Sling TV channels; if you want to read the whole list, visit Sling TV's official site. 
Sling Blue 
Food Network
FOX
Fox News
HGTV
HISTORY
Investigation Discovery (ID)
Lifetime Channel
BBC America
Cartoon Network
CNN
TNT
USA
MSNBC
NBC
Nick Jr.
TBS
Sling Orange 
Comedy Central
Disney Channel
MGM+ Drive-In
Food Network
HGTV
HISTORY
Investigation Discovery (ID)
Lifetime Channel
TNT
A&E
AMC
BBC America
CNN
Cartoon Network
The Sling Orange + Blue plan includes all the channels available in Sling Blue and Sling Orange. 
Which Devices Are Compatible With Sling TV?
It is necessary to know about the supported devices of the subscription you will purchase. The compatible devices of Sling TV are as follows;
Android phones and tablets
ios devices and pads
Apple TV
Roku
Xbox One
Google Chromecast
LG and Samsung Smart TVs
Amazon Fire TV and tablets
Specs and Features
So, is Sling TV good? Let's learn what features it offers Here's a list of some exciting features of Sling TV.
Video Quality: Sling TV gives access to a resolution of 720p which is fairly enough to enjoy your favorite shows and matches. 
DVR Storage: Sling TV offers 50 hours of DVR storage with each subscription without any extra charges. You can upgrade this limit to 200 hours for $5 each month. 
Simultaneous Screens: Sling TV allows only 1 screen with the Orange plan, 3 with the Blue plan, and 4 with the Orange+Blue plan. 
Coverage: Sling TV has earned a good name in the market because of its low prices and excellent selection of channels. It offers on-demand content and the coverage of national, international, and regional content. 
Customer Service: Sling TV customer service is efficient and reliable. If you face any problem with Sling TV, you can contact their service after launching the chatbot. 
Parental Controls: One of the best features of Sling TV is the availability of parental control. You can adjust the content through the settings tab after creating a PIN. If you want to watch the blocked content, enter the PIN.   
Is Sling TV Worth it?
Sling TV is one of the best streaming services, providing three inexpensive packages and many outstanding features. 
If you want more kids and sports channels, you should buy Sling Orange, and if you are looking for lifestyle, entertainment, and news channels, Sling Blue is a better choice. Sling TV is worth it if you need low-priced packages with the mentioned channels.                                                                                                                                                                                                                    
Wrap Up
Sling TV is one of our favorite streaming services, offering many unique features and sports content. So, if you want to enjoy IPL and NBA in 2023, Sling TV is a good choice. 
FAQs for Sling TV
Is Sling TV better than YouTube TV?
Sling TV offers less number of channels than Youtube TV, but it is also available at low rates. You can purchase Youtube TV for $64.99 with up to 100 channels; therefore, if you need many channels, Youtube TV is good for you. Otherwise,  it would be best if you went with Sling TV. 
Is Sling TV free with Amazon Prime?
The new Sling TV free streaming service is available on Amazon Prime and Fire TV.
Which Sling TV package is best?
Each package of Sling TV is best in its way; for sports fans, Sling Orange is best, and for those who want news and entertainment content Sling Blue is best for them.