FuboTV has a variety of content for everyone and is the favorite streaming platform of many crazy sports fans. It broadcasts live NBA, NFL, MLB, and NHL matches in USA and Canada.
Currently, there's a 7-day FuboTV free trial available to all users. So, those who want to cut the cord and enjoy their beloved live TV channels should try FuboTV for free. 
Read on to learn about FuboTV's free trial and plans and how to get and cancel it. Take a look at our honest FuboTV review to decide if it is worth it. 
Does FuboTV Have A Free Trial? 
The best feature of FuboTV is that it provides a free trial for all its services. All the new customers can enjoy a free trial with a 7-day length, which is available on most streaming services. The FuboTV free trial is available in the USA, Canada, and all other locations where its services are available. 
While creating an account, you must enter your credit card details, meaning you will be automatically charged after the trial ends. If you don't want to be charged, cancel the trial before it ends. 
How to Sign Up For the FuboTV Free Trial?
To enjoy the FuboTV services for free, you must create an account and log in to the app with your device. The app is compatible with almost all smart devices. Here is how to get a free Fubo TV trial. 
How to Get a Free FuboTV Trial?
Follow these easy steps to get started:
Firstly, visit FuboTV's official website and enter your postal code. 
The next step is to create an account; there are two ways to create an account;
Enter your E-Mail address and choose a strong password.
Sign-up with your Google, Facebook, or Apple ID.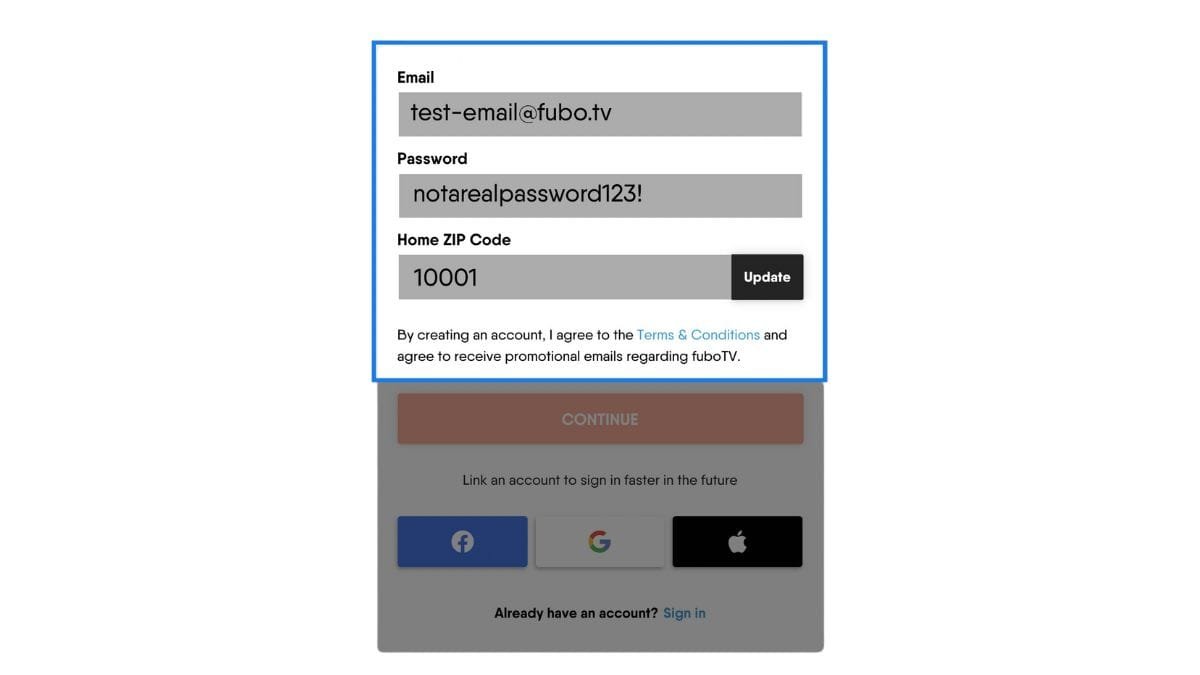 Select any plan (mentioned below) that suits your budget and other requirements.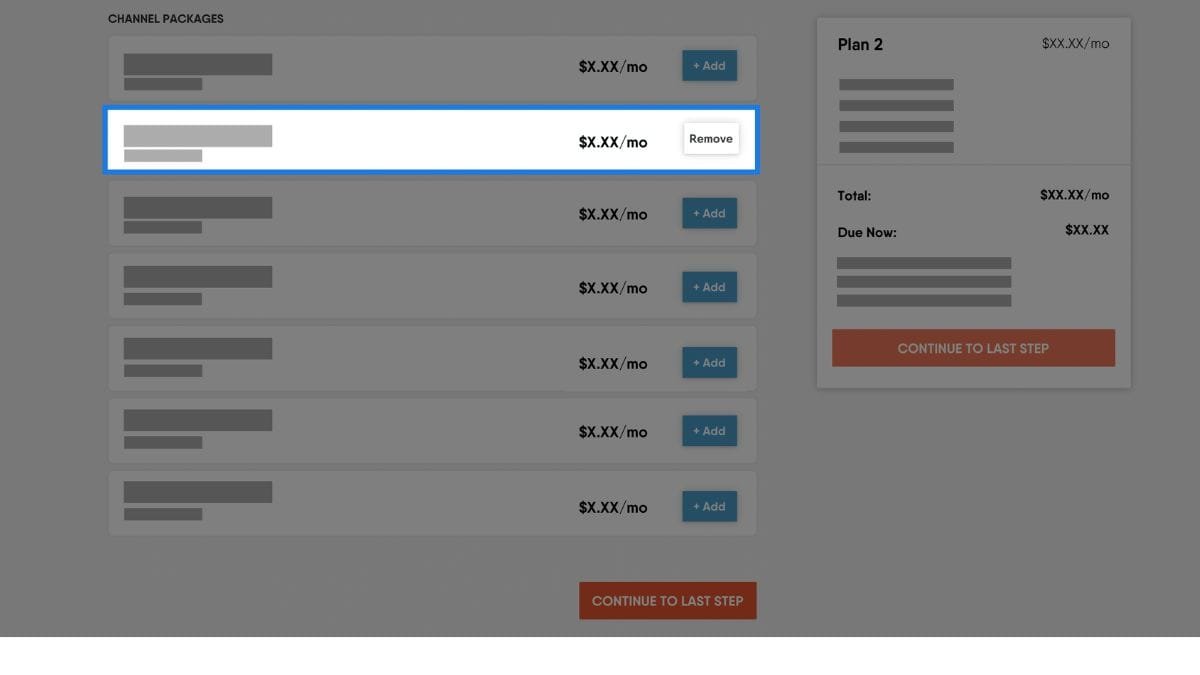 Don't forget to select the box saying you've read the terms of service. 
Finally, you have to click the "start free trial button," and a new page will open, enabling you to purchase add-ons.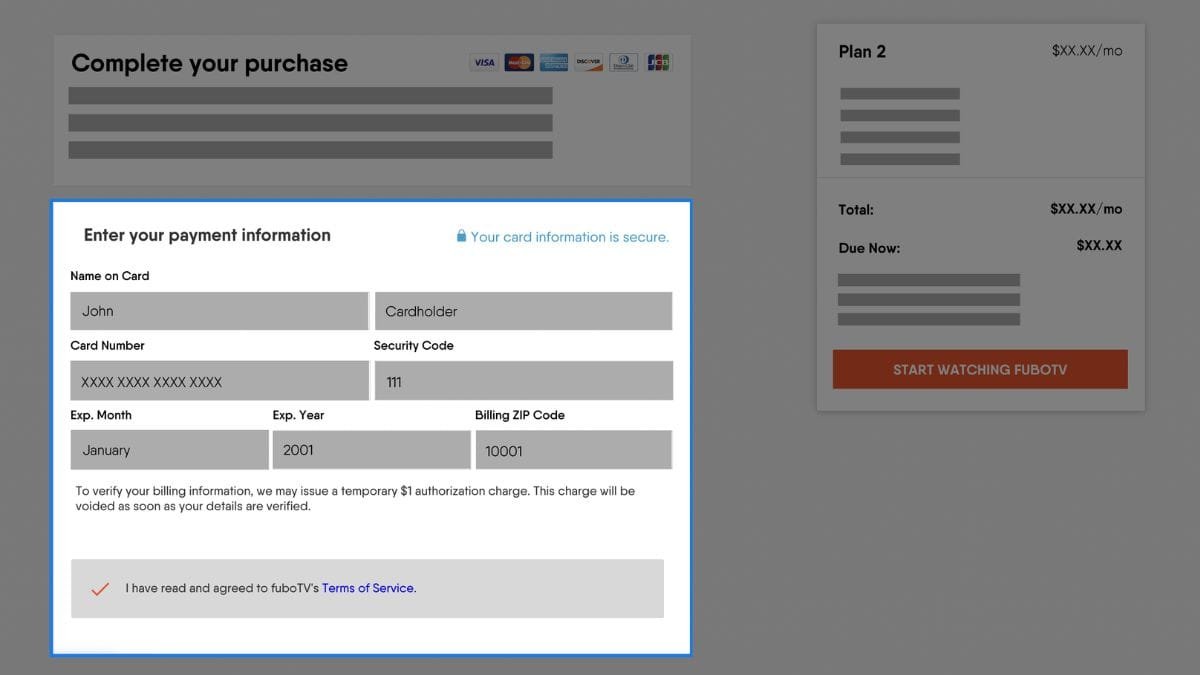 In the last, you have to finalize your subscription and start enjoying the free trial. 
What to Do After Free Trial Ends?
After enjoying the trial, customers have two options:
Continue with the plan they bought 
Cancel their subscription 
If you're delighted with the services, you will go with the first option,  but if you are unsatisfied, many FuboTV alternatives are available. One of them is ESPN Plus. Read our detailed guide on how to get ESPN in the cheapest ways. 
FuboTV Packages and Prices
Currently, FuboTV offers four plans, premium packages, and a variety of add-ons at affordable rates. You can pay for these plans monthly, half-yearly, and yearly and cancel them anytime if unsatisfied.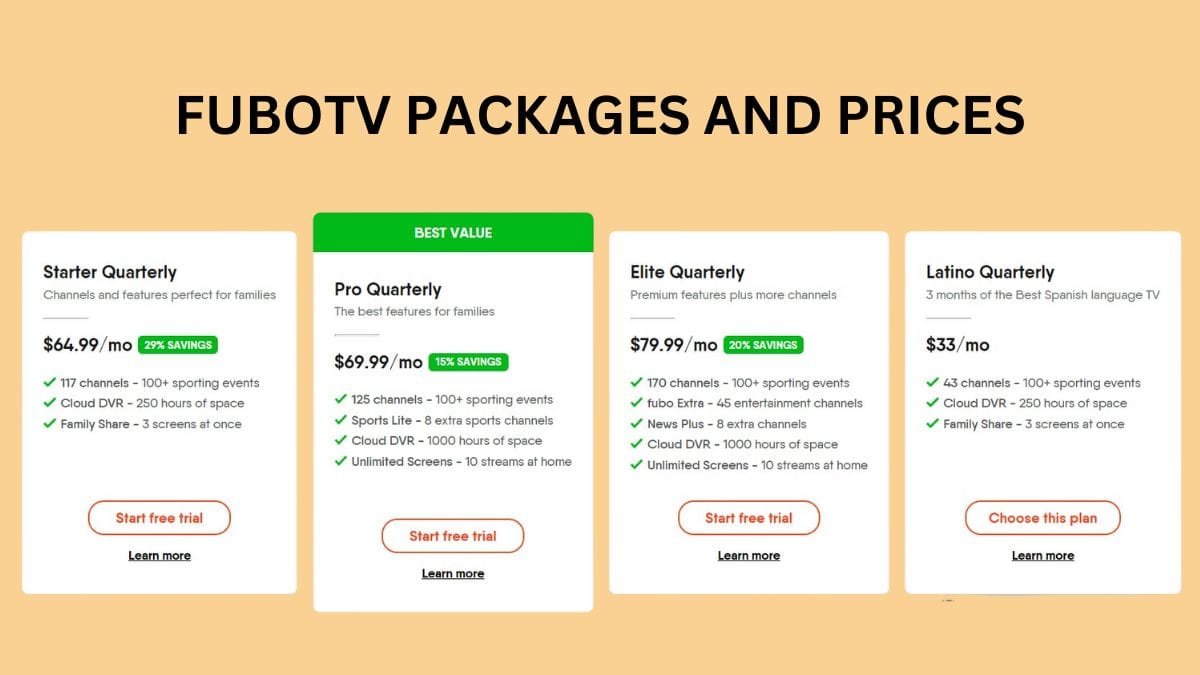 Here is the list of FuboTV plans, along with their prices and features;
| Plan  | Price per month | Live channels | Simultaneous screens  | DVR storage | Free trial |
| --- | --- | --- | --- | --- | --- |
| Pro  | $74.99 | 140+ | 10 | 1000 hours | Yes |
| Elite  | $84.99 | 205+ | 10 | 1000 hours | Yes |
| Premier  | $94.99 | 215+ | 10 | 1000 hours | Yes |
| Latino  | $74.97/quarter | 45 | 10 | 250 hours  | Yes |
The exact number of channels in your package depends on your streaming area. FuboTV prices are too high compared to other platforms in the market. Therefore if you are a sports fan and want a cheaper paid subscription, our JioTV review will help you. 
Fubo TV Premium Packages
Unfortunately, no budget-friendly bundles like the Disney Bundle are available on FuboTV. But through its exciting premium packages, you can easily save money. 
The family plan of FuboTV is the best premium package, which costs $5.99 monthly. This package lets you enjoy 3 simultaneous screens with 5000 hours of cloud DVR storage. 
Note: The official site of FuboTV has clearly announced that all these add-ons and packages are available only to USA residents who are subscribers of FuboTV. 
FuboTV Add-ons and Extras
Although the FuboTV free trial is the main way to save your cash, other deals and add-ons are available to explore. We have selected some nice add-ons on FuboTV with popular and most wanted channels and features. 
If you're a sports fan, we recommend you purchase Sports Plus. it gives access to famous sports channels such as NFL RedZone,  MLB Network, NHL Network, and NBA TV for $10.99 monthly. 
Adventure Plus add-on is a better choice for those looking particularly for entertainment shows and blockbuster movies. It offers Outside TV, Sportsman Channel, World Fishing Network, IN TROUBLE, Mav TV, and Waypoint for $4.99 per month. 
One of my favorite add-ons on Fubo TV is the combined Showtime, Starz, and Epix package. People who want a cheaper plan should buy it, as it will save you $6 compared to the prices if purchased separately. You can stream your favorite movies and series through this plan. 
What Do You Get With Fubo TV? 
FuboTV broadcasted only sports content a few years ago and was known as a "sports first" company. But things have changed with time, and now, this platform gives access to entertainment, lifestyle, news, live sports, TV shows, highlights, and much more.
You can get three flexible and pocket-friendly packages; each varies in channels and prices. Fubo TV also provides 250 hours of DVR storage with the Latino plan and 1000 hours with other plans. 
There are also many add-ons available, which you can enjoy with the existing subscription, including maximum channels, high quality, and reliable performance.  
How To Cancel FuboTV Free Trial?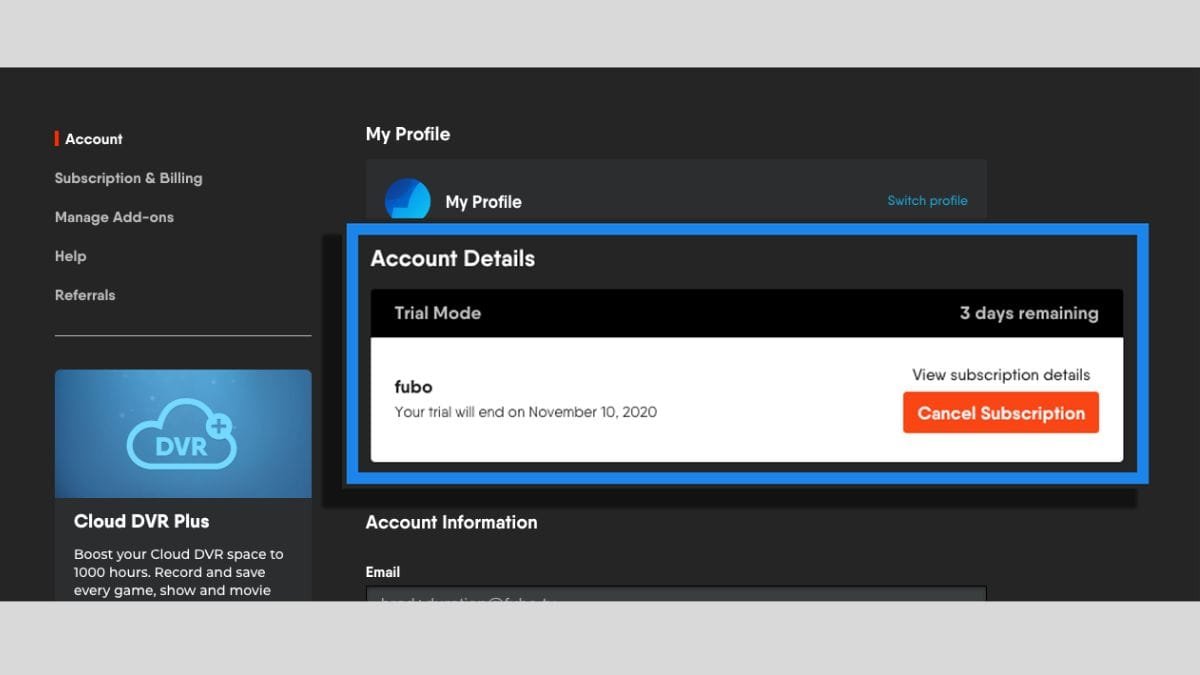 If you don't want to be charged, you must cancel the FuboTV free trial, anytime before it ends. Don't worry, it's easy to cancel if you carefully follow the steps:
Open the official website and log in to your FuboTV account. 
Click the "my account" section, and scroll down your screen to the bottom. 
You will find the "subscription menu". Open it and click "cancel my subscription." 
Now, you'll be asked for the reason for cancellation; enter it. 
Select "cancel" to confirm your cancellation.
Final Cut 
FuboTV is an intermediate streaming service. The period for FuboTV free trial is seven days, whereas some services provide a 30-day free trial, like Hulu free trial, and some services have no trial, like Sling free trial.
You can get the sports, kids, lifestyle, entertainment, and news all under a single platform. Also, there is no long-term contract, and all smart devices support the app. 
So, if you want to enjoy 140+ channels, live and on-demand content, and favorite shows and movies, you should go with this platform. Using FuboTV free trial will help you learn more about the app and decide whether the app is worth it for you or not.
FAQs for FuboTV Free Trial
Is FuboTV free with Amazon Prime?
After becoming the official partner, Fubo TV has been added to the Freevee sections of Amazon. It is available on almost 155 million devices across many streaming platforms. 
Does FuboTV have ESPN?
Fubo TV gives has made a deal with Disney to provide ESPN access; therefore, Fubo TV customers can now also enjoy ESPN.