Are you tired of the high costs of cable subscriptions but still want to enjoy your favorite TV shows, movies, and sports? YouTube TV free trial might save your day!
YouTube TV offers it all, from popular TV series to blockbuster movies and live sports events. The best part? You can try it out for yourself with a 14 days free trial. In this article, we'll introduce you to the world of YouTube TV free trial. Plus, we'll share alternative plans in case your free trial period ends. So, stay tuned to learn quick hacks for enjoying Youtube TV for free.
And if you want to learn more about YouTube TV's features and packages, don't forget to read our YouTube Review. 
Is There A YouTube TV Free Trial?
The answer is yes! YouTube TV offers a generous trial for new subscribers, granting access to over 100 channels, live TV, and on-demand content. The free trial is available for all the packages and add-ons. 
You only need a compatible device and an internet connection to signup. YouTube TV free trial allows you to explore personalized profiles and customize your channel lineup. It lasts for 10 days. However, this trial period is shorter than others in the market. 
Here's a quick video to learn about YouTube TV:
How Does The YouTube TV Free Trial Work?
To start your free trial, you'll need to sign up and provide a valid payment method. They will use this information to charge you once the trial period ends if you decide to continue with the service.
So, if you decide YouTube TV isn't the right fit, cancel your subscription before the trial period ends. As a customer, you will also get a special three months discount after the trial ends. 
If you want to enjoy a free trial for a longer period of 30 days, remember to read our Hulu free trial.
How To Sign Up For YouTube TV Free Trial?
Now that we have learned how it works, it's time to see how you can sign up for Youtube TV free trial. It's a pretty straightforward process. Here's a step-by-step guide:
Visit the official YouTube TV website.
Click the blue button on the website's homepage, saying "Try it Free"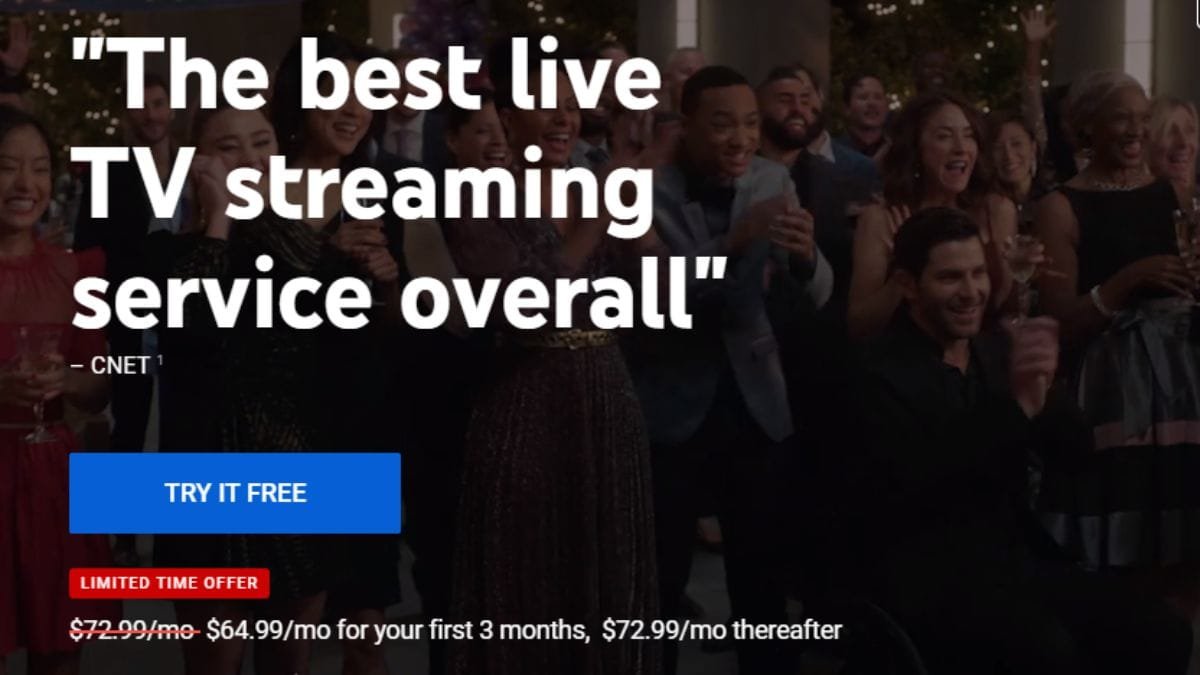 Enter your existing Google account or create a new one to sign in.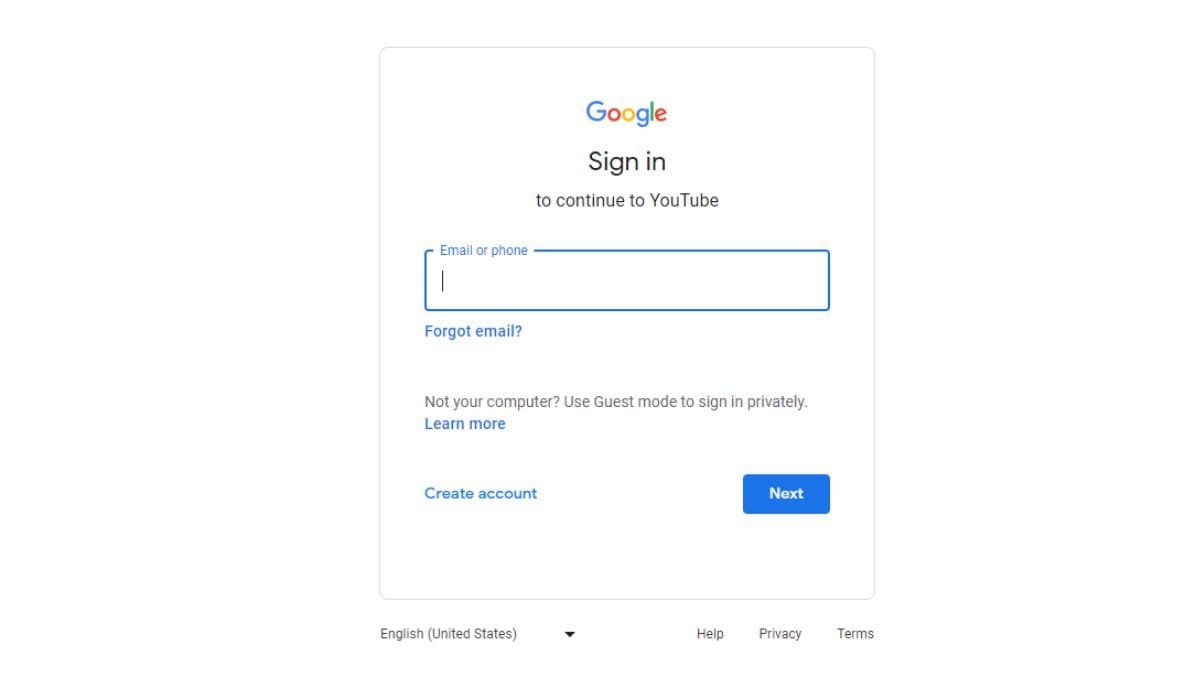 The next step is to provide location; YouTube TV requires your ZIP code to determine the availability of local channels in your area.
You'll need to provide your credit card details to complete the process.  
After completing the sign-up process, you'll officially enroll in the YouTube TV free trial. 
Terms and Conditions
Here are some points that you need to remember before starting your trial:
The YouTube TV trial promotion lasts for 10 days.
The promotion is open to participants in the United States.
Participants must live in markets where YouTube TV is available.
The offer is applicable only to the YouTube TV Base Plan.
The offer is exclusively available to customers who meet the following criteria:

They are not current YouTube TV subscribers.
They have never been YouTube TV subscribers in the past.
They have not participated in a YouTube TV trial previously.
What Are The Cheapest Ways To Get YouTube TV After the Free Trial Expires?
Your YouTube TV free trial may end after 10 days, but we still got you covered with the cheapest ways to continue your streaming experience. 
YouTube TV Discounts
YouTube TV offers a special discount for three months after the trial ends. This offer can save you $8 per month. You'll be charged $64.99 for three months and &72.99 afterward. 
YouTube TV Add-Ons
YouTube TV's add-ons allow you to customize your subscription and cater to your specific interests. A variety of add-ons are available on YouTube TV; Sports enthusiasts can indulge in the Sports Plus add-on.
If you're a fan of premium networks, the Entertainment Plus add-on brings popular channels like HBO Max, Showtime, and STARZ to your screen. There are add-ons for international channels, additional DVR storage, and more for those craving even more variety. 
Bundles
Unfortunately, you can't bundle YouTube TV with other streaming platforms. There are also limited deals available compared to other services. If you're looking for a platform with more deals and discounts, our Sling TV free trial can help you. 
YouTube TV Plans And Pricing
YouTube TV offers flexible subscription plans designed to provide an optimal streaming experience for everyone. With transparent pricing and no hidden fees, you can choose from various affordable packages offering an impressive lineup of channels and on-demand content.
Currently, YouTube TV offers three plans. The table below mentions YouTube TV's plans; let's find the right fit for you. 
| Plans | Prices  |
| --- | --- |
| Base plan | $64.99 ($72.99 after 3 months) |
| Spanish plan | $34.99 |
| NFL Sunday Ticket Bundled or Standalone | $299 |
Note: This NFL Sunday Ticket offer is available through September 19, 2023. When the discounted offer period ends, the full retail price of $ 349.00 USD will come into effect for new users. 
What Can I Stream With My YouTube TV Free Trial?
If you're curious about the wide range of content available during your YouTube TV free trial, prepare to be delighted. From popular network shows to live sports events, news broadcasts, and movies, YouTube TV has something for everyone. You can enjoy up to 100 live channels and various add-ons with YouTube TV's free trial.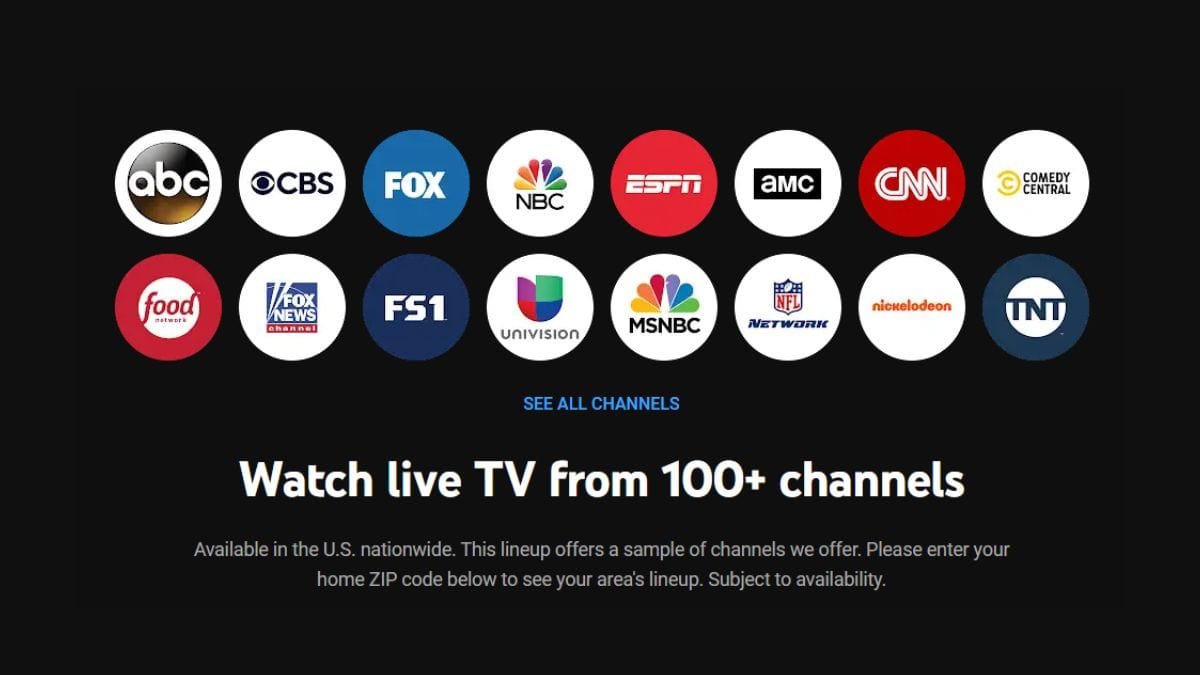 How To Cancel YouTube TV Free Trial Before Getting Charged?
Some of you may not find it suitable for you. In that case, if you are wondering how to cancel the trial and avoid any unwanted charges, here's a step-by-step guide to help you:
Go to the official YouTube TV website.
Sign in using the same Google account that you used to start the free trial.
Click the profile icon located on the top right corner of the screen. 
Click the option to cancel or end your trial membership in the membership section.
Following these steps, you can easily cancel your YouTube TV free trial before it transitions into a paid subscription. Make sure to cancel within the trial period to avoid any charges.
And if you're seeking a streaming platform that aligns perfectly with your preferences, reading reviews can be a great way to find one.
The Final Cut
To sum it up, YouTube TV free trial is your all-access pass to a world of boundless entertainment. The length of its free trial is 10 days. Is Youtube TV good for you? Well, it depends. People running low on budget and looking for a streaming service with more bundles and deals shouldn't go with YouTube TV. Otherwise, it's a great option!
We provided all the necessary information on how to get a free YouTube TV trial and its other deals and discounts. So, don't let this chance slip through your fingers! Sign up for the YouTube TV free trial now and determine if it fits you.
Frequently Asked Questions
Does Youtube TV Free Trial include DVR? 
Yes, the Base plan and Spanish plan of YouTube TV include unlimited DVR space. 
Does Youtube TV Free trial include ESPN? 
Yes, YouTube TV includes ESPN in its channel lineup, which lets you enjoy various sporting events, analysis, and commentary. 
Does a free YouTube TV trial charge you? 
No, YouTube TV Free Trial does not charge you during the trial period. It provides a risk-free opportunity to explore the platform and its features without any upfront costs.
Does Youtube TV free trial require a credit card? 
Yes, a credit card is typically required to sign up for the YouTube TV free trial.